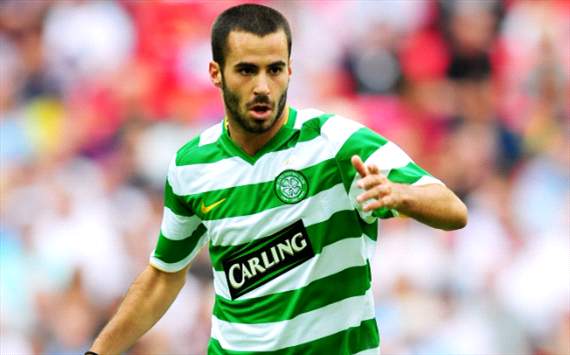 Santos Laguna midfielder Marc Crosas says Camp Nou will always be the "reference point" of Catalan nationalism, as the former Barcelona youngster looks ahead to the Clasico with Real Madrid on Sunday.
Mass demonstrations were initiated in the streets of the autonomous entity during August, with reportedly up to as many as 1.5 million people marching in support of the region's fight for independence from Spain.
A supporter of the movement, Crosas, a product of La Masia and now plying his trade in Mexico, revealed his preference at being labelled Catalan and claimed the sporting venue has born into a manifestation of the ideology.
"This is not something new. Camp Nou has always been the reference point of Catalanism and if a fan does not want to post the ballot paper because they do not feel Catalan, then they must not do it," Crosas told Marca.
"I always hear the notion that sport and politics do not mix, but that's one of the biggest lies I've ever heard. Whenever you do something in politics, it is always viewed as a mistake by someone else.
"In all places I have always been to, I have been treated as Spanish, except in Scotland, whose people have more knowledge of the Catalan conflict.
"There, if I was called Catalan. I'd always agree with them. Outside Spain, I am Spanish and Catalan. Anyway, I find them to be small matters. I've never bothered to call myself Spanish, but quite the opposite.
Crosas, who has twice been capped by Catalunya, never made a first-team appearance for Barca in La Liga, having been shipped out on loan to Olympique Lyonnais before being transferred to Celtic in the summer of 2008.
Nonetheless, he remains an avid supporter of Tito Vilanova's men and expects his previous employers to narrowly overcome their bitter rivals.
"I am Cule to the core," he added. "Barca will win but it won't be easy. I'll say 3-1 because 2-1 would be too risky.
"Right now, I don't think there is a better match at club level worldwide. It will be a great match, but it will be a very even game.
"It won't be as open as the Supercopa, when Barca and Madrid were vastly superior at varying points over the two legs."
Much was made about the departure of Pep Guardiola and his replacement Vilanova last summer, but Crosas feels the Blaugrana's continued positive results under the former assistant pays testament to the quality of the squad.
"Guardiola's personality would be missed by any team, but [Barcelona] are working really well without him, which means that those who make the difference are the players," he said.
"Tito is certainly not as charismatic as Guardiola, but the message is always the same."
The Liga MX was swelled by the arrivals of Spanish-based quartet Crosas, Valdo, Raul Tamudo and Luis Garcia in the summer, but while the midfielder has flourished at Santos Laguna, the others have struggled at their respective clubs.
Nonetheless, the former Volga man is confident that his compatriots will eventually come good in the Mexican top flight.
"The truth is that, here in Mexico, I am comfortable," Crosas claimed. "The people treat me very well and I like the championship. I would not mind being here for the next five years.
"Personally, I feel very well. At first I felt I was lacking in pace, but today I feel I have the consistency levels that I was looking for. Right now, the team is responding to the expectations we set out [at the start of the season].
"I'm surprised that Valdo, Tamudo and Luis Garcia are not getting many minutes, but I have no doubt that they will end up making a difference.
"I know Luis the most and he's a great player like the others. [If they didn't get much more game time], I would be a very concerned fan because I know that when these players are given a chance, they will do very well."