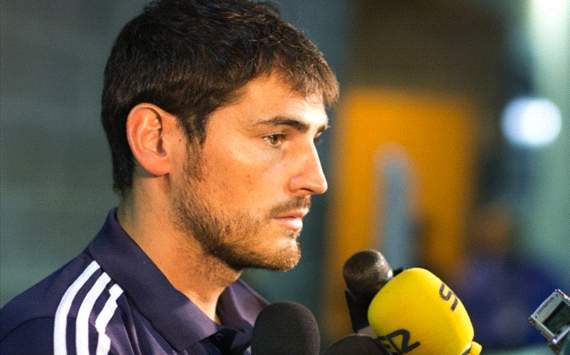 Iker Casillas – Real Madrid
Real Madrid captain Iker Casillas has moved to quash rumours suggesting that Cristiano Ronaldo is unhappy in the Spanish capital.
Speculation has been rife since the Portugal international revealed that he was "sad" after Real's last league game with Getafe.
However, Casillas does not believe there is a problem and that everyone at the club is content.
"There has been no issue. Everyone left for their national teams to play elsewhere this week," he was quoted by AS.
"I arrived at training at 4.15pm and there was no meeting [between Ronaldo and Jose Mourinho], there was nothing out of the ordinary. Cristiano was normal. We have to be focused on the Sevilla match, we cannot drop more points, we have to win.
"For Madrid, both as a player and a fan, it is a real pleasure to have Cristiano. And for Cristiano, it is a luxury to wear the shirt of the best club in the world.
"Everyone is better off. Cristiano is happy to stay in Madrid and the fans are happy to have Cristiano. Madrid's fans are demanding, but they are with everyone."
One of the rumours that circulated as to why Ronaldo could be unhappy was the lack of endorsement from his team-mates for him to win this year's Ballon d'Or.
When asked about his thoughts on the topic, Casillas hinted that Ronaldo may not be the only player who deserves the award.
"I think that some players at Madrid deserve it for the great season we have had and for the titles have won," Casillas added.
"There are those who vote following different criteria. Cristiano has been playing at a very high level, but others may also deserve the award too.
"For me? There is much talk of that award and it makes me grateful to be on the lips of so many. People stop me on the street to tell me that I deserve it. This is very satisfying for me."