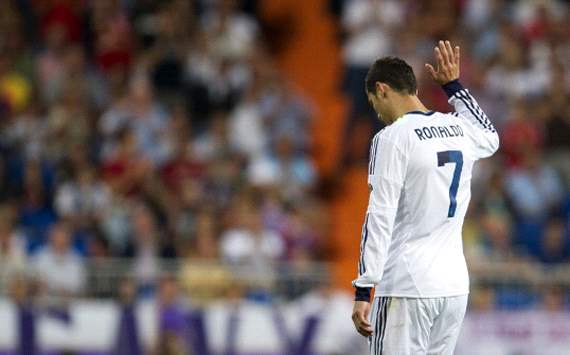 Cristiano Ronaldo / Getty
By Alberto Pinero

Real Madrid would be willing to sell Cristiano Ronaldo for a €200 million fee if they cannot resolve his current situation at the club, Goal.com can confirm.
The Portuguese superstar refused to celebrate his two goals during the 3-0 win over Granada on September 2, and claimed in the wake of the match that he was unhappy.
The former Manchester United man is one of 17 players returning to training on Wednesday after international duty and there has been a wave of speculation regarding his future at the club.
However, Los Blancos are determined to tackle the crisis and will hold talks between the player, coach Jose Mourinho and president Florentino Perez.
Although Ronaldo himself was quick to deny that a desire for a pay rise was the reason for his current state of melancholy, rumours have persisted that the Portuguese is eyeing an improved contract.
The Real Madrid No.7 earns nearly €10m annually on his current contract, a significantly lower sum than players such as Samuel Eto'o (€20m) and Zlatan Ibrahimovic (€14.5m).
Spain's tax laws have undergone a recent change, and Madrid would now have to pay a 52 per cent tax on the player's wages compared to the current 24%. This means that if they offer Ronaldo a contract in the region of €15m annually, they will be forced to pay over €23m each year after tax.
Perez has voiced his confidence that the winger will not leave the Bernabeu, but ABC news reports that two mystery clubs, believed to be Paris Saint-Germain and Anzhi Makhachkala, would be prepared to offer him a €20m annual salary.
The capital club paid an unprecedented €100m fee for his services in 2009, and he could be set for another world-record transfer if the talks prove to be fruitless.