COMMENT
By Peter StauntonThe Champions League returned this week for its first matchday since Chelsea claimed the cup against Bayern Munich in their own back yard in May.
There were goals galore and no shortage of talking points in Europe's premier club competition and a few shocks and surprises too.
CFR Cluj and BATE Borisov showed that clubs from more esteemed leagues cannot be assured of easy rides in home matches, as Braga and Lille were thoroughly beaten in front of their own fans.
Lionel Messi got his campaign up and running, scoring twice on a quiet night, while there were also doubles elsewhere around the continent.
Also, the heavyweight contests between Real Madrid and Manchester City and Chelsea and Juventus proved hugely entertaining, unlike bygone years when stifling and negativity was the order of the day.
It's shaping up to be a good year.
Goals and ability outstrip Euro 2012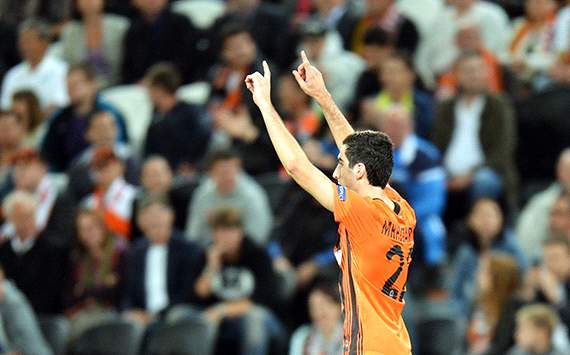 Three teams in the opening round of matches of Euro 2012 scored more than a single goal. That's under 20 per cent. Russia battered Czech Republic, Croatia took advantage against a hugely underwhelming Ireland team and Ukraine's Andriy Shevchenko notched two against Sweden. That represents a pretty paltry return and betrays the type of caution and pragmatism on display at major international tournaments.
Contrast that to day one in the Champions League, on which 15 teams hit the net twice or more; close to 50%. The elite clubs in Europe do have their deficiencies, no doubt. But where solutions are sought in the international arena in the prevention of goals, teams in the Champions League are refreshingly willing to outgun each other. It makes for an altogether more watchable experience.
The dour nature of international football is often attributed to the tactical battle. The truth is that it is an anachronism in terms of the strategies deployed. The risk takers are abundant in the Champions League.
Mistakes come at the back, of course they do. But teams remain confident and capable of going up to the other end of the field and setting things straight.
Don't send a centre-back to take a penalty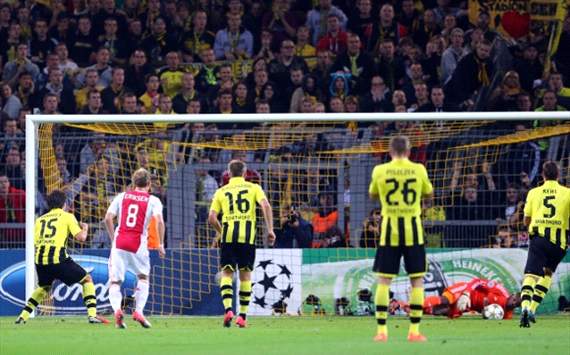 For a team that spends a good portion of their matches in and around opposition penalty areas, Borussia Dortmund are granted remarkably few penalties. Jakub Blaszczykowski's converted effort against Hamburg in a 5-1 win in January was the only occasion on which the German champions received one last season in their entire Bundesliga campaign.
However, three of their last four spot kicks have been taken by central defender Mats Hummels, who does not convince from 12 yards out. His attempt to beat Kenneth Vermeer in the Ajax goal on Tuesday was lamentable. A tentative prod followed a tentative run-up, and Dortmund were fortunate that Robert Lewandowski was on hand to bail them out a few minutes from the end.
The question is, however, with Lewandowski, Blaszczykowski, Mario Gotze and Marco Reus on the field, what on earth is a centre-back doing taking penalties? Either he's very confident in his own abilities, which are dubious at best, or the BVB attackers lack the confidence and self-belief to convert from the spot.
Whatever the reasoning, Dortmund, despite their relative lack of practice, must source a better, more capable, penalty taker than Hummels.
He's not up to the job.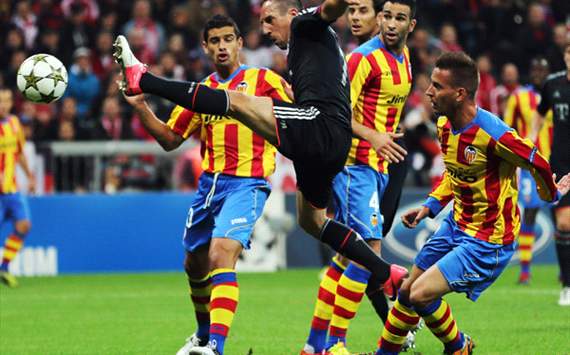 Satisfying, wasn't it, watching those long-range strikes fly in from all angles? From outside the area, time and again, the ball whizzed past hapless goalkeepers. From an offensive perspective, there are already some serious contenders for the goal of the tournament award.
Isco, Marcelo, Oscar, Arturo Vidal, Alyaksandr Valadzko, Toni Kroos and Cristian Tello all had the net bulging with strikes from distance on matchday one. For fans of the piledriver, it was a veritable feast.
But, sorry, there is a dampner to be put on the goalfest. The closing down of shots in the cases outlined above was utterly hopeless. This is the Champions League, the world's elite club competition. If you give a player the time and space to pick a shot from outside the area on such a stage, he will, at the very least, test the goalkeeper.
No doubt the strikes that rattled the net were of the top drawer, but watch again from a defensive point of view. Opposition players moved too slowly or not at all and, subsequently, strikers unleashed practically unstoppable drives towards goal.
Games are decided on the slenderest of margins in this tournament. Marcelo, Oscar, Vidal, Kroos and Tello all hit goals in games that finished level or else were decided by one goal. Failing to close down players at the edge of the box has proven to be the difference between one point and three. Witness John Obi Mikel's lax, inattentive behaviour just prior to Claudio Marchisio's through ball to Fabio Quagliarella for Juventus' equaliser.
Isco and Oscar arrive with a bang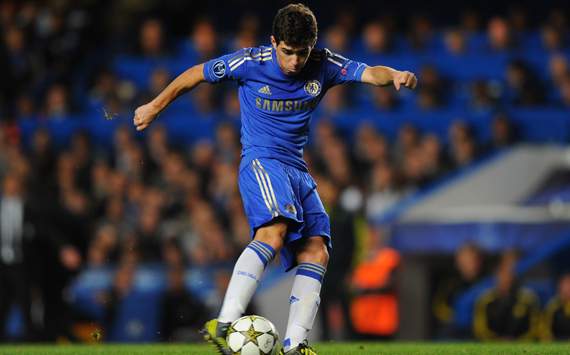 There comes a moment in every promising young player's career that signals his arrival. On Tuesday night, in the relatively austere surroundings of La Rosaleda, Malaga's Francisco Roman Alarcon established himself among Europe's elite with two strikes of the finest quality against Zenit St Petersburg. His first, a curling effort, was sublime. His second was unerring, thunderous.
Without hyperbole, Isco is as an electrifying a talent as has emerged in Spain in the last five years. Capable of playing through the centre or drifting in from out wide, Isco goes past people for fun and has a keen eye for a pass; a genuine star in the making.
At Stamford Bridge on Wednesday, Oscar's contributions went some way towards justifying the hype which came in the wake of his move from Internacional to Chelsea. In Brazil's Serie A and at his age-appropriate levels, the slightly-built 21-year-old was pre-eminent. But the Champions League was supposed to be a fiery cauldron in which to make a first start for the European champions.
His first goal had a touch of fortune about it, but his second was otherworldly, confirming a lack of nervousness and apprehension on such a big night.
The playmaker had an HD vision of his intentions in his head before he received the ball on the edge of the box from Ashley Cole. He effectively played a through ball to himself, around Andrea Pirlo no less, and curled a shot over the head of the world's best goalkeeper, Gianluigi Buffon.
A hint of what is to come. 
A salute to el Comandante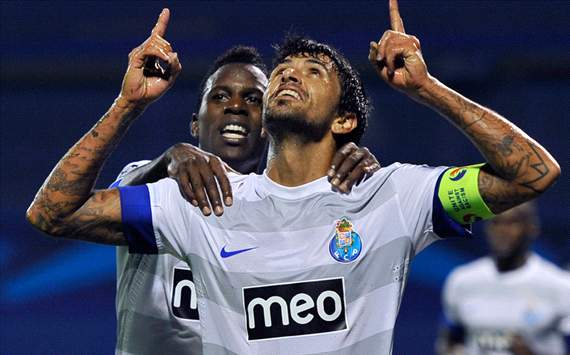 Hours before his match against Dinamo Zagreb, Porto captain Lucho Gonzalez was informed of the death of his father. He was immediately given permission to fly to his homeland of Argentina to grieve but, instead, he chose to lead his side out in Croatia and, furthermore, insisted the news be kept from his colleagues.
Indeed, some of his team-mates did not learn of his bereavement until he pointed his index fingers skyward after opening the scoring for the Portuguese champions.
"My goal took some weight off," he told Uefa.com after the match. "It was in the script that I'd score.
"When I heard the news that my father had died, the coach and the club directors spoke to me and gave me their support."
Lucho played his 50th Champions League match on Tuesday night. None, presumably, have been as tough to get through. But get through it he did with a commendable, commanding and hugely dignified display.
"A 10-star player," according to his coach, Vitor Pereira.