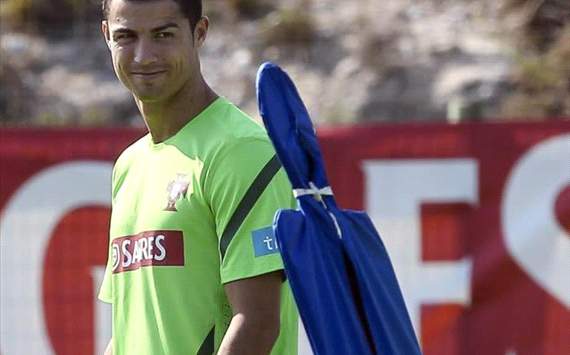 Cristiano ronaldo in Portugal Training camps
Cristiano Ronaldo's Portugal team-mate Ruben Amorim has stressed that the Real Madrid star does not behave any different than he normally does.

Much has been said and written about the prolific attacker since his revelation that he is unhappy at the Bernabeu for professional reasons, but the Braga midfielder has not noticed anything unusual about Cristiano Ronaldo as the Seleccao prepare for the World Cup qualifier against Luxembourg.
"I have not noticed any difference. He is completely normal. The atmosphere is fantastic," Amorim was quoted as saying by Marca.
"Ronaldo is the best in the world and he has our complete support. He is a natural leader in the team but I do not think he needs to feel like that. He just is. And he is an example for us to follow."
The 27-year-old attacker stated on Wednesday that his unhappiness has nothing to do with money, but refused to go into more detail about the reasons for his dismay.