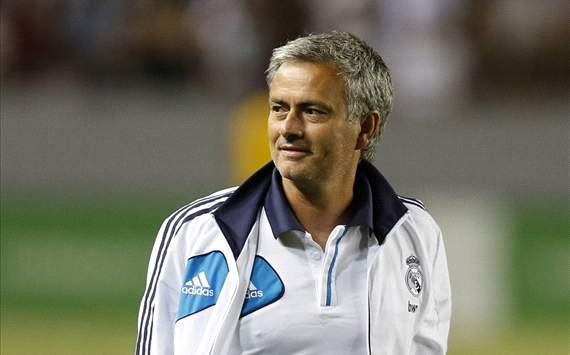 Jose Mourinho – Real Madrid
Jose Mourinho has hailed the strength of his Real Madrid squad, asserting that his charges are ready to improve on the 2011-12 season – a term in which the Portuguese feels his side were the best in Europe.

Los Merengues enjoyed a record breaking La Liga campaign last season, clinching their 32nd title and collecting an unprecedented 100 points.
"The important thing is to always have ambitions," the Portuguese said to the Spanish press. "We want to repeat a season like the last one. The feelings are always the same: what we want is to win the league, not the records.
"The team has reached a significant level, it was the best team in Europe last season. We won the league with a high quality style of play, and we made it to semi-finals [in the Champions League]," he continued.
"We will try to keep the ambition, standard of play and team spirit."
A number of Madrid squad players, such as Nuri Sahin, Ricardo Carvalho and Kaka, have been linked with summer exits from the club, and the 49-year old took the time to comment on their respective situations.
"[Sahin] had a season-ending injury, it was complicated because the team was playing well and winning. For his happiness and Madrid's, a loan is the best solution. Madrid does not want to sell," the former Inter boss revealed.
"[Carvalho] was not born to be a backup. He is too good and has too much self-esteem. He was injured and we started playing with Ramos and Pepe. It is better for him to find a career in a major club. It is a solution that is good for him and Madrid."
Mourinho concluded by addressing the striker situation at the Santiago Bernabeu, with Karim Benzema and Gonzalo Higuain currently vying for the lone striker position amidst interest in the pair from heavy-spending PSG.
"I have decided. Benzema or Higuain, one of the two will play."
"They should understand that the team is more important than the player. Real Madrid needs to have two strikers of their quality."
Kick-off for Real Madrid's opening clash against Valencia is scheduled for 5:00 UTC.