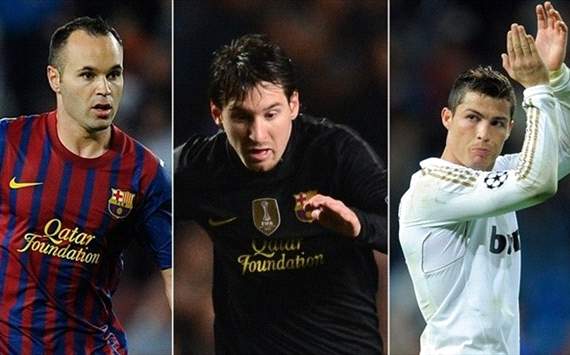 Andres Iniesta, Lionel Messi y Cristiano Ronaldo
Andres Iniesta has revealed that there are no problems in the Spain dressing room, explaining that there is no rivalry between players from La Liga's big two, Barcelona and Real Madrid.

The star midfielder was speaking in a press conference after his nomination for the Uefa Best Player in Europe award. After being named on a shortlist of three, he specifically thanked his team-mates for their support.
The Blaugrana magician is in the running to win the individual accolade alongside Lionel Messi and Cristiano Ronaldo, and Iniesta feels honoured to have made it to the final three.
"Rivalry [between] Barca-Madrid players? At the national team, we have one goal, at our clubs we don't. On the pitch, there is no problem," he said.
He then went on to speak about his recognition, paying credit to his fellow players.
"I'm very proud of my nomination as one of the three players who are still in the race for the Uefa Best Player in Europe award," Iniesta said.
"My team-mates at Barcelona and Spain deserve all the credit for my nomination. Without them, I would not have made the final three on the shortlist for the trophy."
The individual award, created in partnership with European Sports Media (ESM), recognises the best player, irrespective of his nationality, playing for a club within the territory of a Uefa member association during the previous season.