COMMENT
By Carlo Garganese | Goal.com International Deputy Editor
The month of August is painfully predictable for football fans. The start to La Liga is often disrupted by disputes over television revenue, Serie A is usually engulfed in a betting or match-fixing scandal, while most frustratingly of all we are repeatedly subjected to the same, tedious over-hyping of the new Premier League season.
This year has been slightly different. While Spain and Italy have suffered from their usual teething problems, for the first time in maybe 20 years there has been an understated build-up to the upcoming English campaign.
The success of Team GB's 29 gold medals at the London 2012 Olympics coupled with the umpteenth failure of England's football team at Euro 2012 has certainly resulted in a deliberate toning down by the corporate marketing machines, but at the same time there appears to be a misguided consensus that the Premier League has struggled to make an impact in the transfer market.
SUMMER TRANSFER SPENDING IN EUROPE

League
Premier LeagueSerie ALigue 1

Bundesliga

Russian P.Liga

Turkish S.Lig

La Liga

Source: transfermarkt.de

Spent
€313m

€282m

€202m

€179m

€115m

€66m

€65m

Received
€99m

€295m

€108m

€130m

€40m

€33m

€116m
The EPL has spent more money on transfers than any of its European competitors, splashing out €313 million to Serie A's €282m, Ligue 1's €202m and the Bundesliga's €179m. Astonishingly La Liga has only exhausted €65m.
Of course spending more money isn't automatically a demonstration of strength – one only needs to reference the €95m (£75m) Liverpool blew on Andy Carroll, Stewart Downing and Jordan Henderson. But this summer, if we analyse the movement of the Premier League's most powerful clubs – Manchester City, Manchester United, Chelsea, Arsenal, Tottenham and Liverpool – five are arguably stronger than they were at the end of 2011-12.
Chelsea have been the biggest movers, having lavished €80m on the naturally gifted Eden Hazard, Oscar and Marko Marin. Arsenal will have concerns over the centre of their attack due to the impending sale of Robin van Persie to Man Utd, but have brought in real quality in Lukas Podolski, Olivier Giroud and Santi Cazorla. The latter could prove to be the signing of the summer, and there is still time to spend the Van Persie money.
Tottenham will need to fill a hole in midfield if Luka Modric completes his transfer to Real Madrid, but Spurs manager Andre Villas-Boas will have €40m to burn on a replacement and has already signed Ajax captain Jan Vertonghen and Bundesliga star Gylfi Sigurdsson. Brendan Rodgers' Liverpool are a work in progress, but have improved with the acquisitions of Roma's Fabio Borini and Swansea's Joe Allen.
Manchester United registered a massive coup in capturing Dortmund's €16m Shinji Kagawa. The Red Devils remain weak in the centre of midfield, but will be a team to fear again with Van Persie. Premier League champions City have only added Everton's Jack Rodwell but are working on landing a blue-chip centre back. With a world class squad already at his disposal, and a year of Champions League experience under his belt, Roberto Mancini will be confident of taking the Citizens onto the next level in Europe.
Although Modric could yet defect, the only important players to depart the big six bubble this summer have been Didier Drogba from Chelsea and Ledley King from Tottenham, the latter having retired.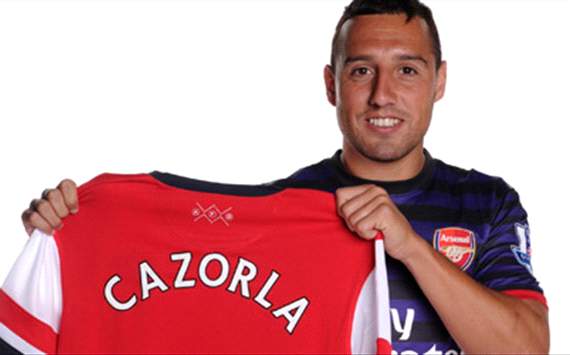 Santi's new shirt | Cazorla could prove to be the signing of the summer
Compare this to Serie A, which has exported two superstars in Zlatan Ibrahimovic and Thiago Silva to Paris Saint-Germain, as well as another top-class symbol in Ezequiel Lavezzi to the same club. With pillars such as Del Piero, Nesta, Inzaghi, Seedorf, Gattuso and Zambrotta either being released, moving abroad or retiring, Serie A has undoubtedly lost a degree of its lustre.
Milan's pre-season has been nothing short of disastrous. The Rossoneri's financial model has been torn up, with the club having accrued a total deficit of around a quarter of a billion euros in the past half-a-decade.
The days of lavish spending by Silvio Berlusconi are over as the former Italian prime minister turns his attention to cutting costs. Riccardo Montolivo aside, the players brought in to replace the above legends –  Francesco Acerbi, Bakaye Traore, Sulley Muntari and Kevin Constant – are not names worthy of the prestigious Milan jersey. The sight of Adriano Galliani begging Florentino Perez to loan him Kaka, and contribute half of the Real Madrid man's wages, is depressing.
Rivals Inter, who finished sixth last season, are also in a state of transition and will not immediately challenge for Serie A, or the Champions League should they return there next season. Goalkeeper Samir Handanovic may be a top-notch acquisition from Udinese, but are the likes of Matias Silvestre and thirty-somethings Gaby Mudingayi and Rodrigo Palacio going to transform the ageing 2010 Champions League winners? The Nerazzurri are sorely missing star quality.
With Italy's third Champions League representatives Udinese having offloaded virtually their entire first team over the past year, it will be up to Juventus to fly the flag. Unlike the Milanese, Juve have enjoyed an excellent summer by securing the outstanding Udinese duo of Kwadwo Asamoah and Mauricio Isla.
The Serie A champions will add two more names to their roster by the end of the window – including a top-class forward (possibly Athletic's Fernando Llorente) – and can certainly match anything the Premier League has to offer. However, inspirational coach Antonio Conte faces a ban of 10 months, pending appeals, following the betting scandal. Such a handicap could break the Old Lady in Europe.
HIGHEST PROFILE IMPORTS TO EUROPE'S BIG FIVE LEAGUES

Premier League

La Liga

Serie A

Bundesliga

Ligue 1

Santi Cazorla (Arsenal)
Joao Pereira (Valencia)
Borja Valero (Fiorentina)
Xherdan Shaqiri (Bayern)
Zlatan Ibrahimovic (PSG)
Eden Hazard (Chelsea)

Cristian Rodriguez (Atletico Madrid)

Egidio Arevalo (Palermo)

Granit Xhaka (Gladbach)

Thiago Silva
(PSG)

Shinji Kagawa
(Man Utd)

Nelson Valdez (Valencia)

Paulo Dybala (Palermo)

Luuk de Jong (Gladbach)

Ezequiel Lavezzi (PSG)

Oscar
(Chelsea)

Youssef El Arabi (Granada)

Cristian Zapata (Milan)

Milan Badelj (Hamburg)

Marco Verratti
(PSG)

Fabio Borini (Liverpool)

G.Kondogbia (Sevilla)
Mati Fernandez (Fiorentina)

Vaclav Pilar (Wolfsburg)

Lucas Moura
(PSG)

Elsewhere the projects at Roma, Napoli and Fiorentina are coming along nicely, but the bottom line is that at the highest level Serie A has – Juventus aside – experienced one of its most difficult transfer markets for years, and as the table above proves there have been few, if any, big name imports.
The situation in Spain has been "even worse than Italy this summer" as Fifa transfer guru Ernesto Bronzetti noted, reflecting the sorry state of the country's economy that sees youth unemployment at over 50 per cent. Real Madrid have yet to sign a single player, although they should soon snare Modric. Barcelona have added just one first teamer – albeit a top-class one in Valencia left back Jordi Alba.
Nevertheless, the starting point of the Clasico couple was so strong that little improvement could be made to their already formidable outfits. Madrid and Barca may have been eliminated in the Champions League semi-finals last season, but they remain head and shoulders above the rest of the competition, both at home and abroad. This is a view shared by legendary World Cup-winning coach Marcello Lippi: "In Europe there are two teams, Barcelona and Real Madrid, in front of everyone. Then there is a group of five or six teams."
These five or six squads will draw inspiration from Chelsea's shock Champions League success. In a one or two-legged knockout game, anything is possible.
There are two teams, Barcelona & Madrid, in front of everyone. Then a group of five or six teams.

– Marcello Lippi

Investment has also been minimal for the rest of La Liga. Malaga appear to have lost the backing of their investors and are now selling stars, and Atletico Madrid cannot afford to repeat last year's expensive outlay – much of which they are still owing. Valencia have made some shrewd Joao Pereira-like purchases but remain heavily in debt, while Athletic Bilbao are restricted by their Basque-only signing policy and may lose stars Fernando Llorente and Javi Martinez. The rest of Spain, quite simply, will be happy just to break even.
Breaking even is an impossibility at Paris Saint-Germain this summer with Qatar Investment Authority (QIA) having already splurged €140m on established stars Ibrahimovic, Thiago Silva and Lavezzi, as well as wonderkids Marco Verratti and Lucas Moura.
While PSG require time to gel, and still contain defensive weaknesses – as illustrated in their opening day Ligue 1 draw with Lorient – there can be no denying this is a team who will soon be equipped to conquer Europe.
But the strength of a league is not based on one team, and while PSG's stars will frighten the Premier League, there is little to worry about the rest of the French competition. Former champions Marseille and Lyon have signed just one player between them, and have spent the summer auctioning off their best talent. Lille have lost star man Hazard, and Mathieu Debuchy could follow him, while last year's champions Montpellier have sold top-scorer Giroud, with star defender Mapou Yanga-Mbiwa seemingly on his way to Serie A.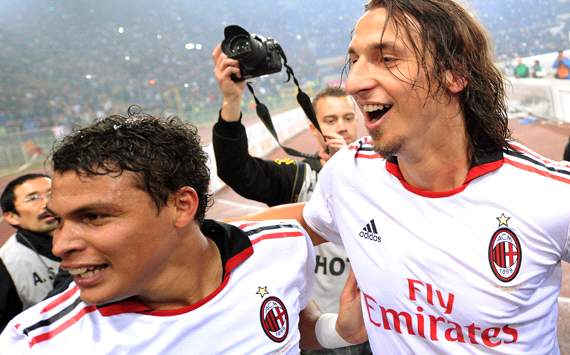 Zlat's Amore! | Ibra & Silva have transformed PSG, but what about rest of Ligue 1?
In the Bundesliga, Bayern Munich may have expended €27.5m and secured one of Europe's hottest properties in Xherdan Shaqiri, but they have failed to strengthen the one area of the team that needed treatment – the centre of defence. Dante from Borussia Monchengladbach will add depth but will he improve the first team backline? Bayern's starting XI is no stronger than it was last term, but the possible arrival of Athletic's Javi Martinez would change that.
Dortmund have replaced one star in Kagawa with another in Marco Reus, who has the potential to become one of the continent's best players. Elsewhere there have only been tweaks, but BVB will have learned from their 2011-12 Champions League catastrophe, which ended ignominiously at the bottom of a modest group. Germany's other Champions League entrants Schalke and Gladbach will not concern the Premier League, despite reasonable markets.
All in all if the transfer window were to slam shut tonight, the Premier League's top brass would be very satisfied with their summer's work. None of the big six have weakened, all but the already-formidable Manchester City have arguably strengthened, and this can only be considered a step forward as the EPL attempts to justify its slogan as the "best league in the world".
The true acid test is the Champions League. Real Madrid and Barcelona may remain miles ahead of the crowd, and PSG and Juventus may have jumped into the equation too, but the Premier League is back on the right path as it aims to gain a stranglehold once more on club football's most prestigious competition.
Follow Carlo Garganese on