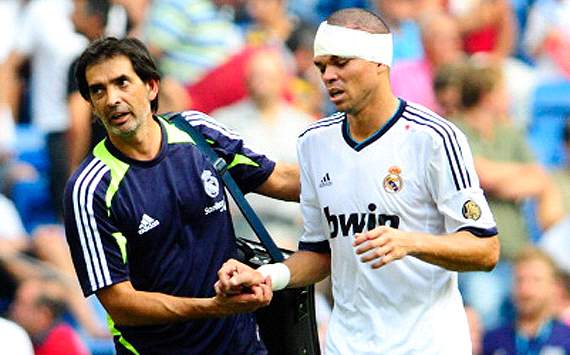 Pepe, tras el choque con Casillas
Pepe has assured Real Madrid supporters that he will be back to full fitness "very soon", after showing his appreciation for concerns about his recent head injury.

The centre-back picked up the knock in his side's 1-1 draw with Valencia in the opening day of La Liga at the weekend, and spent Sunday night in hospital undergoing a series of examinations.
Even though all the tests came out negative, Pepe will not feature in the first leg of the Supercopa Espana tie against Barcelona on Thursday, but he has vowed to pay back everyone for their support.
"I appreciate the many displays of support that I have been shown in the last few days," Pepe told reporters.
"I am flattered by the encouragement I have received since Sunday, especially from the fans of Real Madrid.
"I will be in perfect shape very soon to continue fighting for the [Madrid] jersey.
"I also want to thank, in particular, the team doctors, who have been and remain by my side at all times.
"I thank all of my colleagues from other clubs for  being interested in my health.
"These small details have not been missed. I give out a big hug to everyone."
Madrid doctor Carlos Diez was quoted as saying on the club's official website: "He spent Sunday night under observation and everything is very good.
"We have decided, with the help of Real Madrid's medical services, that the player could be discharged from the hospital without any problem.
"Normally, with a head injury, we have the player under observation for 24 hours.
"More importantly, we brought him to the hospital where we could carry out the necessary tests, all of which have come out okay,"
Thursday's match at Camp Nou kicks off at 22:30UTC.