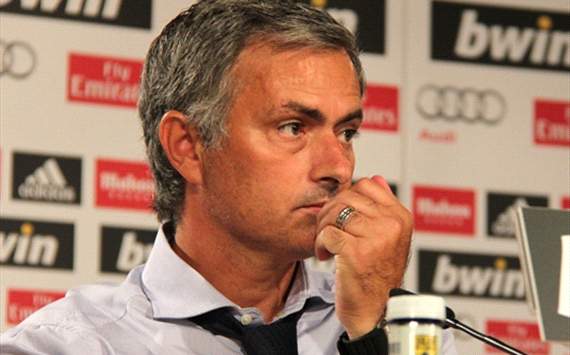 Goal.com / Shinichiro Ema
Real Madrid boss Jose Mourinho has reiterated his desire to one day return to management in the Premier League and refused to rule out a return to Chelsea.

The 49-year-old took over at Stamford Bridge in 2004 after winning the Champions League with Porto and, among other triumphs, secured the Blues' first league title in 50 years in his first season, before retaining it the year after.
Mourinho is widely touted as a favourite to replace either Sir Alex Ferguson or Roberto Mancini if a vacancy at Manchester United and Manchester City were to arise in the near future, with his name also always mentioned whenever Roman Abramovich decides to change direction at Chelsea.
And when asked if it was possible that he may return to Stamford Bridge, the Portuguese told BBC Radio 5 Live: "I will go where people really want me and, when that moment arrives, they show me they really want me.
"But I have to repeat always this: I am at Real Madrid. I like very much to be [there].
"I want one day to be back in English football, yes. I always said that."
After his time in England Mourinho went on to conquer Italy with Inter, winning Serie A in his first year in charge and then completing the treble of the league, Coppa Italia and the Champions League in his second term – becoming only the third manager to win Europe's elite club prize with two different teams in the process.
Now embarking on his third season as Madrid coach, having won the Copa del Rey in the 2010-11 campaign before pipping Pep Guardiola's Barcelona to the league title last season, Mourinho is considered as one of the greatest manager's ever to grace the game.
And he revealed that his secret is to immediately become one of the fans, creating a special bond with them, adding: "When I go to a club, I wear the shirt, I feel the shirt like it's my first one or my last one.
"I feel the fans as part of myself. I create eternal links with fans.
"I go to play against Chelsea and I feel [it], I go to Italy and I feel [it].
"I work for the clubs, I work for the people that trust me, and of course the owners and the directors, but the clubs are the fans.
"For me, it's one of my qualities. I become immediately one of them and I feel that I am one of them with a privileged position to fight for the club and to try to bring to all of them happiness."