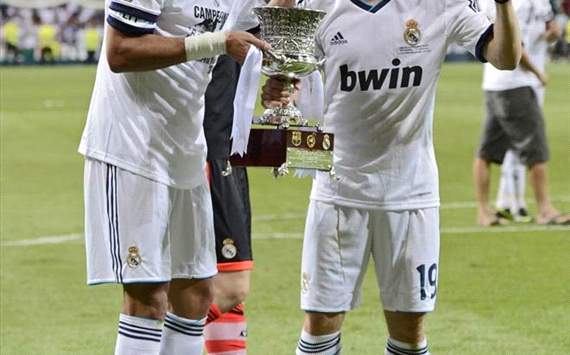 Pepe and Modric with Spanish supercup
Luka Modric is delighted to have won his first title as a Real Madrid player, following the club's 2-1 Supercopa victory over Barcelona on Wednesday, and hopes it will be the first of many.

The Croatian playmaker came off the bench in the 83rd minute and helped Jose Mourinho's side claim early bragging rights over their Clasico rivals by winning the season's first piece of silverware.
Speaking to Real Madrid TV, Modric told of his happiness at wearing the Blancos jersey for the first time and thanked the home support for the rapturous reception he received during his maiden bow.
"I feel great. I couldn't ask for a better beginning for my career at Real Madrid," he enthused.
"I am very happy and I would like to thank the supporters for the great support during the whole match and for a great reception they gave me when I came on."
Reflecting on the match itself, Modric was impressed with his new club's performance and felt that they were worthy winners of the Supercopa.
"I think we did well, we deserved to win and we just need to build on this game and continue to work hard and play better every match."
The former Tottenham star was thankful to Mourinho for allowing him to play in front of the home fans and receive a winner's medal.
"It's an amazing feeling [walking out onto the Santiago Bernabeu] and I'm lucky the coach gave me the opportuity to play today. In my first game I won a trophy, I couldn't ask for more."
"I'm looking forward to having a successful career at Real Madrid."
Modric could make his full home debut against Granada in La Liga on Sunday.