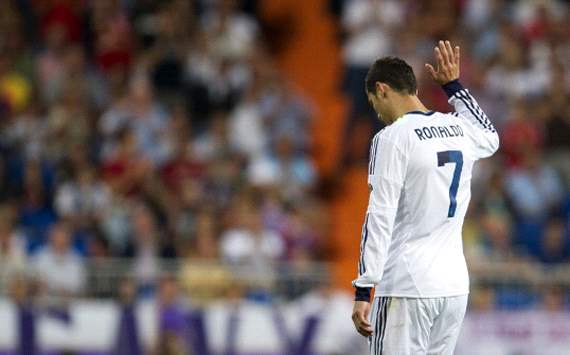 Cristiano Ronaldo / Getty
ANALYSIS
By Ben Hayward | Spanish Football Writer

It should have been a happy occasion. Real Madrid were afforded a heroes' return to the Santiago Bernabeu on Sunday, four days after claiming the Spanish Supercopa with victory over Barcelona, as the home crowd witnessed a wonderful display by Luka Modric on his full debut and saw Cristiano Ronaldo score twice to take his tally at the club to an incredible 150 goals in just over three seasons.
But the Portuguese wasn't happy.
Ronaldo refused to celebrate his goals, before departing with a thigh strain and the same pained expression etched on his face after 63 minutes. Later, he dropped a bomb in the mixed zone. "I am sad," he said. "That's why I didn't celebrate. And the club know why."
Within the hour, several sectors of the Spanish media mused that it may be the end for the 27-year-old at Real. Both Punto Pelota and El Larguero claimed Cristiano wants to leave Madrid, with later reports revealing a Saturday meeting with Florentino Perez in which the Portuguese is said to have expressed his dissatisfaction at the capital club.
So what had gone wrong since the smiles and hugs on Wednesday night?
There were theories aplenty. Ronaldo, some speculated, was unhappy at the club's treatment of close friends Kaka, Ricardo Carvalho and Fabio Coentrao. No, he was angry at a recent Marcelo interview in which the Brazilian claimed Iker Casillas should win the Ballon d'Or, others opined. Or because he had lost out to Andres Iniesta in the Uefa European player prize on Thursday.



I am sad because of a professional issue and the club know why. That's why I didn't celebrate the goals, because I am not happy

– Cristiano Ronaldo

In truth, however, it appears much more than that. Cristiano is struggling to snap out of a deep depression which began as his Portugal side lost out to Spain in the semi-finals of Euro 2012. On top of that came a stuttering start to the season with two poor performances and only one point picked up in Madrid's opening Liga matches against Valencia and Getafe. Beating Barca helped – but it wasn't enough.
Ronaldo is reported to have told Perez he is no longer happy at the Bernabeu, perhaps in an attempt to secure a lucrative, long-term contract at a club where he once claimed he would like to spend the remainder of his playing days, but more likely because he feels he lacks support at institutional level.
Ronaldo's relationship with Iker Casillas has also been called into question. The goalkeeper is said to be the choice of many at Madrid to win the Ballon d'Or later this year, a prize the Portuguese thinks he himself deserves after landing La Liga for his side last term, for the first time since 2007-08.
And while Barca mollycoddle Messi, Cristiano believes he is left hung out to dry when things don't go well at Madrid, and not afforded pertinent protection from above. In short, he isn't feeling the love at the Bernabeu.
Talk of a possible departure, however, appears premature. Ronaldo revealed after the game on Sunday that he will now concentrate on Portugal and their upcoming World Cup qualifiers against Luxembourg and Azerbaijan this week. That, he said, was "more important" than dwelling on his Madrid malaise.
| | |
| --- | --- |
| | THE TOP 10 GOALSCORERS FOR REAL MADRID |

And while the press pondered an embarrassing exit for the world's most expensive player, Gonzalo Higuain called for calm. "Cristiano seems fine to us," the Argentine assured.
The whole affair is somewhat similar to the situation at Madrid with Jose Mourinho earlier this year. Questioned by fans and the media after a poor performance against Barcelona in January, news broke that the 49-year-old was set on leaving the club; he himself had filtered information to the press in a bid to gain superior support from above in the light of criticism from several quarters. Now, the same thing is happening with Cristiano and, as with Mourinho, it is he who has chosen to make his unhappiness a public matter when usually such issues are dealt with behind the scenes.
Having departed with a thigh strain on Sunday, few reporters expected to see Ronaldo in the mixed zone after Madrid's 3-0 win over Granada. Fewer still will have envisaged what was to follow, but the Portuguese was clearly keen to air his grievance with the club in an attempt to either win more support or a lucrative new contract. Probably both.
The timing is unfortunate, however, with Ronaldo now away with Portugal for the next nine days. But when he returns, expect it all to die down because, as he sits down and considers his future, he will realise Real Madrid remains the best place for him to achieve his goals. Like Mourinho, who ended up being backed by the board and signing an improved deal in the summer, he just needs a little love from above.
Follow Ben Hayward on