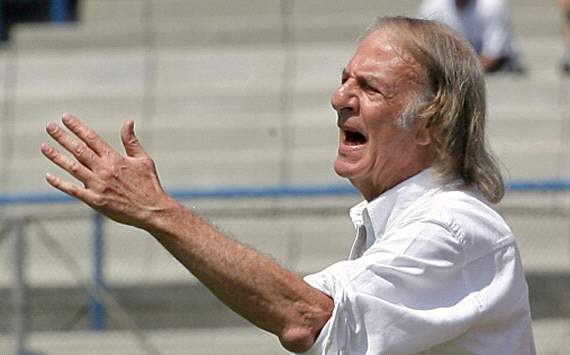 César Luis Menotti / Getty
Former Barcelona coach Cesar Luis Menotti has said Real Madrid should be playing a lot better given the talented squad that trainer Jose Mourinho has at his disposal.

The 73-year-old, who also led Argentina to the 1978 World Cup, believes that Mourinho's team should be performing much better in La Liga after an inauspicious start to the season.
"I do not like how he [Mourinho] plays the Madrid team, which does not mean he is doing it wrong," he told Marca.
"They play well because you cannot play poorly with those players. With great musicians you cannot not have a tune.
"Madrid could play much better than they do. And I say this with respect for Mourinho, of course. Madrid wins from the strength of their playing squad; one day it's Di Maria, another day it's Benzema."
The former Atletico Madrid coach also claimed Lionel Messi is miles ahead of Cristiano Ronaldo in the race for the Ballon d'Or.
He added: "The difference is that Messi has scored so much more than the person second. There was never as much difference between the top player and the next. Neither with Di Stefano, Maradona nor anyone else. There is a very great superiority of Leo."
Menotti, who played for Boca Juniors in his career, also admitted Tito Vilanova's Barcelona are slightly less defensively stable due to injuries than Pep Guardiola's side.
He said: "[Dani] Alves, Pique, [Carles] Puyol and [Eric] Abidal were perfect, with Busquets in front of them. Now they have many injuries. The idea survives, but the defensive efficiency is not the same as it was."