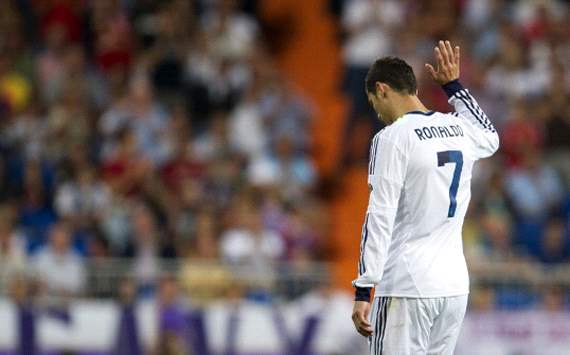 Cristiano Ronaldo / Getty
Will he stay or will he go? Why is he sad? Just what is going on inside the mind of Cristiano Ronaldo?

The Portuguese forward stunned Real Madrid on Sunday, just four days after beating Barcelona in the Spanish Supercopa. Ronaldo scored twice in the 3-0 Liga win over Granada, but refused to celebrate the goals and later revealed he was unhappy, claiming that the club knew why.
So with speculation mounting over the possible reasons behind his unhappiness and uncertain future at the Santiago Bernabeu, Goal.com consulted several experts – Goal.com International's Deputy Editor Carlo Garganese, Spanish Football Writer Ben Hayward and the Spanish site's Madrid correspondent Albert Pinero – to discuss the finer points of Ronaldo's fall-out with the capital club. Below are the highlights of today's discussion.
http://u.goal.com/135700/135791.jpg
       OUR EXPERTS SAID:


Ben Hayward: "I don't believe it's a wage issue exactly, but about feeling wanted. Cristiano led Real Madrid to La Liga last season and is the undoubted star in a team which ended Barcelona's stranglehold in Spain in 2011-12. He claimed as recently as June that he is keen to spend the rest of his career at the Santiago Bernabeu, but believes he deserves more support from the club's hierarchy, especially in the build-up to the Ballon d'Or.

"Cristiano thinks he would be the worthy winner of football's prestigious individual prize, but while Messi is pampered and protected at Barcelona, the Portuguese feels he is often left open to criticism at Madrid and believes some senior figures at the club would prefer Iker Casillas to claim the award. None of that has gone down too well and although I still believe he is unlikely to leave, expressing his apparent 'sadness' will likely help him strengthen his position at Madrid. Because he is the one player they simply cannot afford to lose."

Alberto Pinero: "One of the main reasons for the Cristiano Ronaldo sadness could be that he still has not renewed his contract with Real Madrid. And this summer, other players like Di Maria, Arbeloa, Albiol and even Mourinho have done so. Real Madrid and Ronaldo have been long privately negotiating the renewal of his contract, but have not yet reached an agreement. Mainly, because the law has changed in Spain, and from now, Cristiano Ronaldo be taxed 52 per cent of his salary when before it was only 23%. Ronaldo is under contract until 2015, and if Real Madrid renew his contract now, they may have to pay up to €30 million each year while they are paying about €15m now. And they are unwilling to do so – at least not yet.

"Ronaldo is likely to have said publicly that he is sad only to push president Florentino Perez, and so renew early. But Perez is not used to speaking publicly, so it seems unlikely this could turn into a public battle."

http://u.goal.com/135700/135791.jpg
http://u.goal.com/135700/135791.jpg
       OUR EXPERTS SAID:


Ben Hayward: "I am not sure it's the underlying factor but I do believe it's an issue. Ronaldo likes and needs to be the main man, much like Mourinho in a way. While Jose has demanded dominance off the pitch, Cristiano wants complete control on it.

"So even though Cristiano and Iker appeared best buddies as they celebrated La Liga together at Cibeles in June, there has been some friction between Ronaldo and Casillas for a long time and I believe Ronaldo feels the club should be backing him wholeheartedly in the race to beat Messi to the Ballon d'Or."

Carlo Garganese: "If you ask me whether I think Ronaldo should win the Ballon d'Or, then I say that he deserves to. He was the most decisive player in club football last season, had a great European Championship, and when all things are taken into account I believe he did more than his main rivals Lionel Messi, Andres Iniesta and the media-promoted Iker Casillas.

"However, as we have seen in the past, politics plays an important role in deciding who wins the Ballon d'Or. In 2010, Wesley Sneijder deserved the prize, but the political climate was against him. It is possible that politics may work against Ronaldo also. If he doesn't have allies within Real Madrid as an institution, and they have decided to back Casillas – as it has been speculated in some quarters – then his chances of success decrease significantly."
http://u.goal.com/135700/135791.jpg
http://u.goal.com/135700/135791.jpg
       OUR EXPERTS SAID:


Ben Hayward: "This was very much a European award and I believe the judges were keen to hand the prize to a player who had shone at Euro 2012. Yes, Ronaldo was excellent in Poland and Ukraine, but Iniesta was the outstanding performer over the whole competition and deserving of the accolade. The Ballon d'Or, however, will be less Euro-oriented as votes come in from all over the world.

"Also, it will be several months after the conclusion of the Continental competition. So I don't think Iniesta will win that one. For me, it will be between Messi and Ronaldo and while I may be wrong, I just feel the Argentine's superior scoring stats may win him more votes."
http://u.goal.com/135700/135791.jpg
http://u.goal.com/135700/135791.jpg
       OUR EXPERTS SAID:


Alberto Pinero:  "I do not think Cristiano Ronaldo will leave Real Madrid now, with it being September 3. It true that he is sad, it is true that he has no allies now at Real Madrid, but it is impossible to leave the club now. If his problems are not solved this season, no one knows whether he will leave next summer. But for now, in Madrid, the information there says that his problem is not because another club has made an offer and want to sign him."

Ben Hayward: "The problem with Ronaldo is his price tag. There are only a handful of clubs in world football willing to pay the kind of money Madrid will likely be asking for the Portuguese. And one of those clubs is Madrid themselves. In Spain, the other one is Barcelona and Cristiano will never play there. In England, meanwhile, there is obviously talk of a return to United but as things stand, I just can't see them paying that kind of money – especially for a player who will be 28 next February."

Carlo Garganese: "There are only around a handful of clubs in world football who can afford Ronaldo's transfer fee and wages. These are Barcelona, Manchester City, Chelsea, PSG, Anzhi, and potentially some Chinese clubs.

"A transfer to Barca or Man City would be unlikely due to Ronaldo's time at rivals Madrid and United respectively. He is still too young to transfer to Russia or China, he is such a competitive player that it is hard to imagine him moving to a place out of the limelight. This leaves Chelsea and PSG. Chelsea would not represent much of a new challenge to Ronaldo.

"If the Italian clubs were financially healthy, then a transfer to a Juventus, Milan or Inter would represent something fresh for Ronaldo – the chance to emulate Mourinho and win the league in all of the three major European championships. But this is not the case."
http://u.goal.com/135700/135791.jpg
http://u.goal.com/135700/135791.jpg
       OUR EXPERTS SAID:


Alberto Pinero: "Jose Mourinho gave a press conference after the match against Granada, but he didn't know then what Ronaldo had said. So far, he has not commented publicly on this outburst yet. It's hard to believe he would punish him publicly. In these two years, Mourinho has always defended Ronaldo. Always. "Do not touch Ronaldo because I will not allow you to do it" he told the journalists one day in a press conference. Moreover, Mourinho was the first to say publicly that the Ballon d'Or 2012 should go to Ronaldo. Their relationship is great, and certainly he won't punish him publicly.

"Also, Mourinho is famous for being the leader of the team in training, so it's certain that Mourinho will fuss over Ronaldo to make him feel his best. We don't know now whether Ronaldo will get back to having a good relationship with Marcelo, or if Real Madrid will defend only him in the race to win the Ballon d'Or. But surely Mourinho will try. He will try Ronaldo to stop being sad and persuade him to continue his career at Real Madrid. Because without Ronaldo, both Real Madrid and Mourinho have less of a chance to win titles."

Ben Hayward: "The timing of this incident isn't great for Real Madrid because Ronaldo has now linked up with Portugal and will be away for over a week. That means they won't be able to address the issue immediately, but it does mean both parties will have an opportunity to cool down. You can bet that Mourinho will be in touch with Cristiano as well in an attempt to defuse the situation. And when he returns to Madrid, I expect the forward to agree a brand-new contract within the next few weeks.  To me it doesn't seem like anything the two cannot put behind them and, as I said in my editorial this morning, Ronaldo will realise that he is in the best place to challenge for the top trophies in Spain and Europe. The marriage isn't over yet then, but like any relationship, it needs work from both partners in order to blossom. The two went from the highs of beating Barcelona to the lows of Sunday night, in a very short space of time, but I am sure there are happier times ahead for player and club."
http://u.goal.com/135700/135791.jpg
http://u.goal.com/135700/135791.jpg
http://u.goal.com/135700/135791.jpg
Read the entire debate here!