Real Madrid are in advanced talks to sign Jude Bellingham from Borussia Dortmund but a deal is yet to be agreed.
Bellingham is set to be one of the most sought-after midfielders in the summer transfer window, with Manchester City also interested in the England midfielder.
But one source involved in the negotiations has told Sky Sports News he is confident that Bellingham will become a Real Madrid player this summer and the transfer fee will be a record for a British player.
Sky in Germany understand Dortmund have not received any offer for Bellingham, although it is understood that Dortmund would demand between €120-150m (£106m-£132m) for the 19-year-old.
Liverpool withdrew from the race to sign Bellingham earlier this year, with the club believing that paying upwards of £100m on just one player is not the right strategy to rectify the drop-off in form they have suffered this season.
Jude Bellingham shows why he's in such high demand with a slick touch and finish to give Borussia Dortmund against Eintracht Frankfurt

Any potential move for Bellingham by Real is helped by the close and friendly relationship of the Spanish giant's president Florentino Perez and Dortmund chief executive Hans-Joachim Watzke.
Dortmund's sporting director Sebastian Kehl told Sky in Germany: "Our highest priority is the Bundesliga right now. We want to become German champions! Everything else comes second."
Bellingham, who has 11 goals and seven assists in all competitions for Dortmund this season and represented England at the 2022 World Cup in Qatar, has been at the German club since the summer of 2020.
'Man City remain in hunt for Bellingham'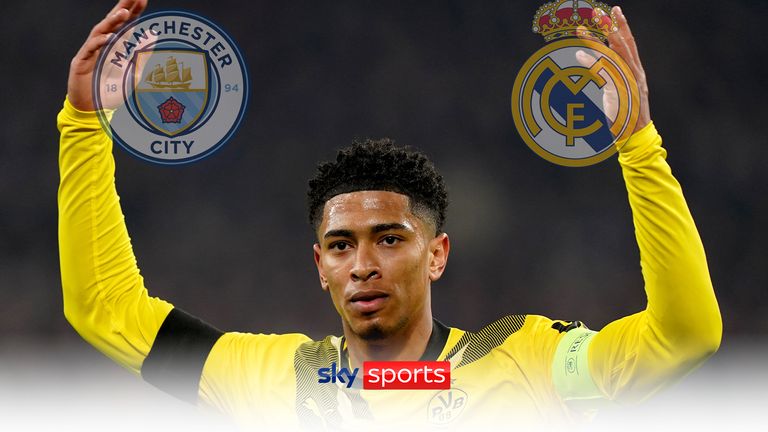 Sky Sports News senior reporter Rob Dorsett:
"Jude Bellingham is the most exciting, and the most valuable, teenager in European and world football right now.
"You have to compare his quality to that of Kylian Mbappe when he was 18 – that's when the French forward joined PSG for £166m in 2017. That figure gives important context.
"However, Bellingham has two years left on his existing Dortmund contract. That will reduce the asking price a bit, because Dortmund will be concerned that, if they can't tie him down to a new contract this summer, and if they don't sell him this summer, his asking price will be significantly lower, as he approaches the final year of his contract.
"Nevertheless, because of the quality of the player, his age – which means he is likely to improve still further – and the huge interest in him, Bellingham is still likely to cost well in excess of £100m. Probably more than £120m.
"At the end of the day, he will cost what Dortmund are prepared to accept as an offer for him, and we know there is no agreement between Dortmund and any other club in terms of fee – yet.
"We should point out that only a handful of clubs could afford to buy Jude Bellingham right now – PSG, Real Madrid, Manchester City, Manchester United and maybe Chelsea.
With speculation linking Jude Bellingham to Real Madrid, check out some of his most iconic celebrations during his time in the Bundesliga with Borussia Dortmund

"Liverpool have already ruled themselves out because they know that if they broke the bank for Bellingham, they could sign no more players this summer.
"United remain interested, I'm told, but whether they can pursue a deal very much depends on what happens with the sale of the club, and whether there is new investment at hand.
"Chelsea have no manager, and are undergoing a major restructure behind the scenes. PSG have so far shown no active interest.
"That's why Real Madrid and Manchester City remain favourites to sign Bellingham this summer.
"If Real Madrid get Jude Bellingham, the hottest property in world football right now, it would be a heck of a coup for them. They already had two of the best young midfielders in world football in Aurelien Tchouameni and Eduardo Camavinga, 23 and 20 years old. If they get Bellingham, who is still only 19, that would be an extraordinary midfield by anybody's stretch of the imagination.
"If they get Bellingham, Real are planning for the future, it would be a heck of a signing and leave them with the most formidable midfield in world football.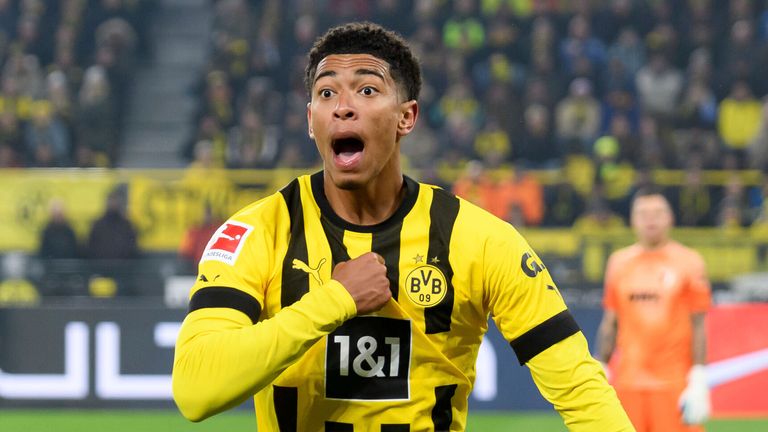 "My understanding is Man City are very much still in the hunt for Bellingham, so you wonder how they will respond to this news that Real Madrid are in advanced talks. They've always been in the background and have the financial clout, albeit under the examination of the Premier League charge which is yet to be answered.
"My gut feeling is that it's going to be Manchester City or Real Madrid, and the news we're getting from our colleagues at Sky Germany would hint he's closer to going to Real than anywhere else, but the deal isn't done yet and that's absolutely crucial.
"I don't think this is done. It's a pretty significant story, but I wouldn't suggest any deal is done or close to being done, it's not. The people around Jude Bellingham have spoken to a number of Europe's elite clubs, including Man City, Man Utd and Chelsea, and I'd be surprised if they were willing to give up the chase at this stage."
'Real would be brilliant move for Bellingham'
Former Liverpool defender Stephen Warnock speaking to Sky Sports News:
"I'm not shocked if I'm being completely honest. When Liverpool pulled out of the race, it was almost due to the fact they knew that Bellingham might go to Real Madrid.
Ex-Liverpool defender Stephen Warnock says he is "not shocked" by the news of Real Madrid entering advanced talks with Borussia Dortmund to sign midfielder Jude Bellingham, citing it as a "brilliant move" for the England player

"When Bellingham went to Germany, it tells you everything about his personality and the player: he wants to push himself, test himself, learn new languages and play for big clubs.
"You can't deny him going to Real Madrid, it is a magnificent club. It is steeped in history, tradition and everything about it.
"You look that the players who have gone before and what it is about – I think it's a brilliant move.
"I would love to see him at Liverpool, I really would.
"But you look at the move and think: what a brilliant move for such a young player to go to such a huge club.
"I think it frees up Aurelien Tchouameni, he's not played as much football as he would have liked at Real Madrid. Will Liverpool go back in for him?"
Inside Real's charm offensive
Sky Sports' Melissa Reddy writing in November 2022:
Real Madrid will position their offer to Bellingham – the most coveted young midfielder in Europe – as his opportunity to become the best player in the world at the place that breeds champions.
Real's charm offensive has already begun and there is great seduction in becoming core to, as the club executive calls it, "the next all-star midfield." Casemiro is gone, Luka Modric is 37, and Toni Kroos wants to retire at the Bernabeu even though he's aware he is part of the present and past but not the future.
Eduardo Camavinga, Aurelian Tchouameni and Federico Valverde will carry Real forward, with the hierarchy of Florentino Perez, Juni Calafat and Jose Angel Sanchez wanting Bellingham to be the golden thread.
They have the European royalty angle and have not been shy of pointing to Kylian Mbappe's misery this season following his decision to snub them and agree to an eye-watering extension at Paris Saint-Germain coated with an insane level of influence.
The France international was also told he would be front and centre for the Ballon d'Or if he joined Real, and would know how it felt to 'own the Champions League.'
Mbappe, the Spaniards say, opted for power and a swollen bank balance over "the sporting project" and it should serve as a lesson.
PSG do count a Ballon d'Or winner in Lionel Messi, but that is merely by virtue of him being registered at the club during the 2021 edition, which recognised his exploits with Argentina, and on a lesser level, Barcelona.