Lewis Hamilton has praised Real Madrid's Vinicius Junior for being "incredibly brave" in his reaction to being racially abused in Spain; warning: The article below contains language that readers may find offensive and distressing
Last Updated: 25/05/23 5:31pm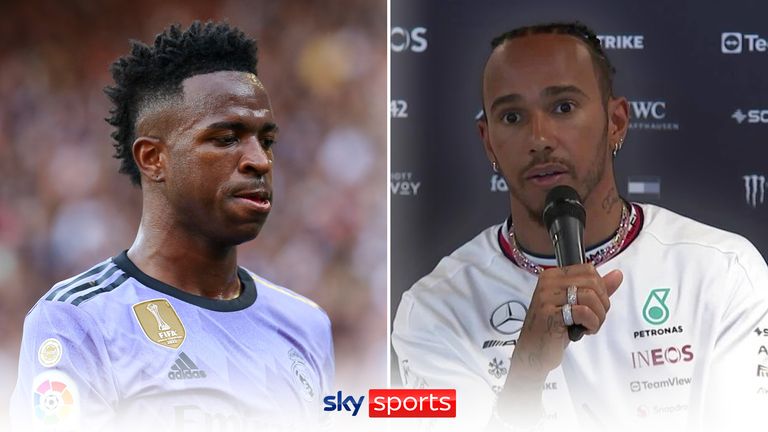 Lewis Hamilton says the racist abuse suffered by Real Madrid's Vinicius Junior is 'devastating'.

Lewis Hamilton says the racist abuse suffered by Real Madrid's Vinicius Junior is 'devastating'.
Seven-time Formula 1 world champion Lewis Hamilton says the racist abuse suffered by Real Madrid winger Vinicius Junior is "devastating" and "brings up emotions" from his own experiences.
The Brazil international took to social media to speak out after being abused in Sunday's game at Valencia, saying that LaLiga "belongs to the racists" and it was a problem he had endured throughout the league.
Hamilton, who became F1's first black driver when he entered the sport in 2007, said that the situation had evoked memories of incidents where he has suffered racist abuse during his motorsport career.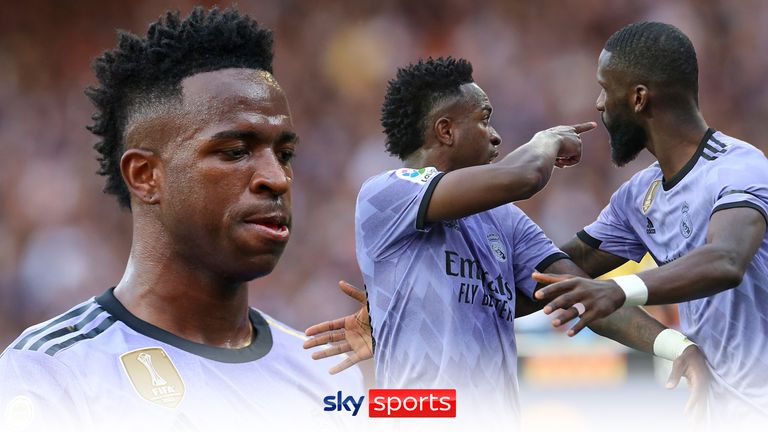 Two days on from Real Madrid's visit to the Mestalla, Vinicius released a new statement on his experiences of LaLiga.
"It's devastating to think in 2023 we're still seeing these things and hearing these things," he said in Monaco on Thursday ahead of this weekend's Grand Prix.
"It really hits home for me, it really brings up emotions, things that I experienced – whether it was back in the UK, or whether it was when I was racing in Italy, or France, or Spain.
"It can be so hurtful the things that people say."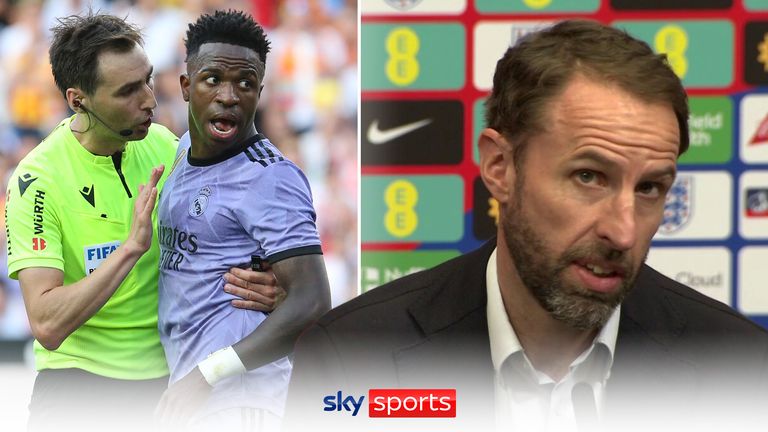 England manager Gareth Southgate gives his thoughts on the situation surrounding Vinicius.
Vinicius was targeted by chants from sections of the crowd during Sunday's match, with the game being stopped in the second half for 10 minutes as the visibly angry 22-year-old grabbed the referee and pointed towards fans who he felt had abused him.
He was later sent off for violent conduct in added time following an altercation with striker Hugo Duro, but the red card has since been rescinded by LaLiga.
Real, who said the incident constituted a "hate crime", filed a complaint with the Spanish State Attorney General's Office.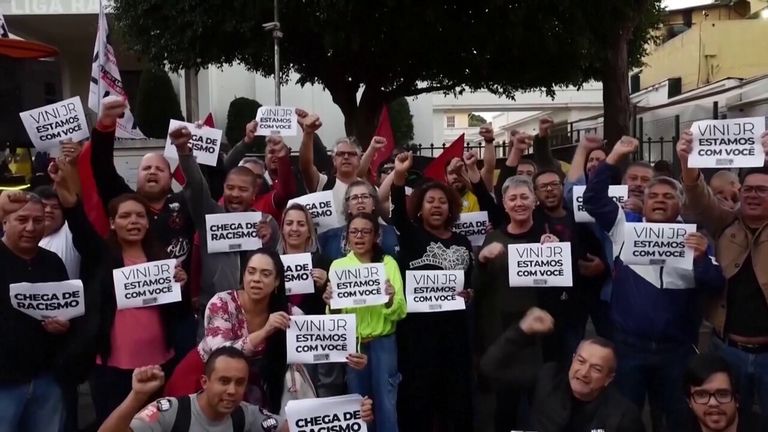 Brazilian protestors gathered outside the Spanish consulate in Sao Paulo to condemn the racist abuse.
Valencia were given a partial stadium ban for five matches and fined £39,000 – a punishment the club called "totally disproportionate" as they confirmed they would lodge an appeal, while head coach Ruben Baraja vowed to fight back against "smears".
Meanwhile, LaLiga president Javier Tebas has apologised for his initial assertion that Vincius was being "manipulated".
"I think he's been incredibly brave," said Hamilton, who has been a leading figure in his sport in campaigning against racism.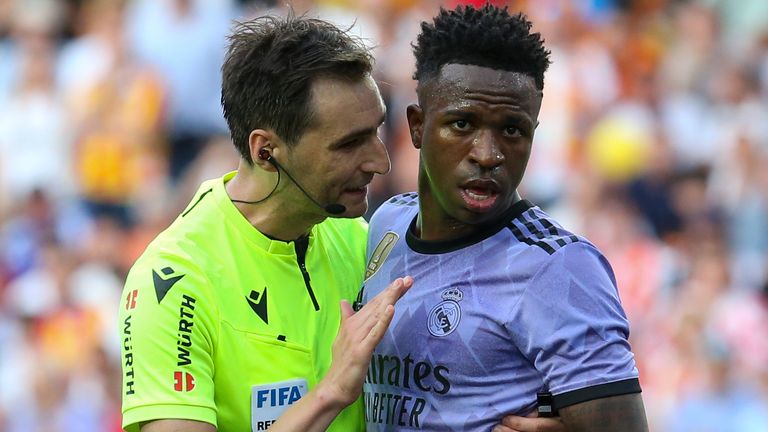 The Daily Mirror's Darren Lewis believes European football, and Spanish football in particular, has a big problem with racism.
"I think it's amazing what so many of these that are experiencing that on the pitch in terms of standing tall, standing strong, continuing to be humble in their approach – not being reactive but being responsible when they're moving forwards because they know that there are lots of young kids that are watching.
"There is no room for discrimination in society today, so sports need to do more, we all need to continue to do more, and if we see it, hear it, we need to do something about it.
"I hope at some stage I get to come to Brazil and support."