Pep Guardiola insists his legacy is "exceptional already" even if Manchester City do not achieve their treble dream.
A potentially historic end of the season lies ahead of City with one win needed to claim a fifth Premier League title in six years and an FA Cup final at Wembley against Manchester United to come.
But first Guardiola's side host Real Madrid in their Champions League semi-final second leg on Wednesday although whatever happens in the remaining weeks of the season, the City boss is not concerned about how he will be remembered.
"My legacy is exceptional already," he said ahead of facing Real. "I have been here many times already.
"We are not stupid to know how important [Wednesday'] game is. It is maybe one of the most important games since we are together here. We cannot deny that. For the competition, for the rival, for many things.
"I said to the players live it like a huge opportunity, enjoy the moment, we are incredibly lucky to be here. It is in our hands, it depends on us, we don't have to do something exceptional, just be ourselves and win one game to reach the final.
"We are going to give everything, do everything, I have an incredible feeling about the team. Whatever happens, thank you so much to them to bring me and the City fans to be here again."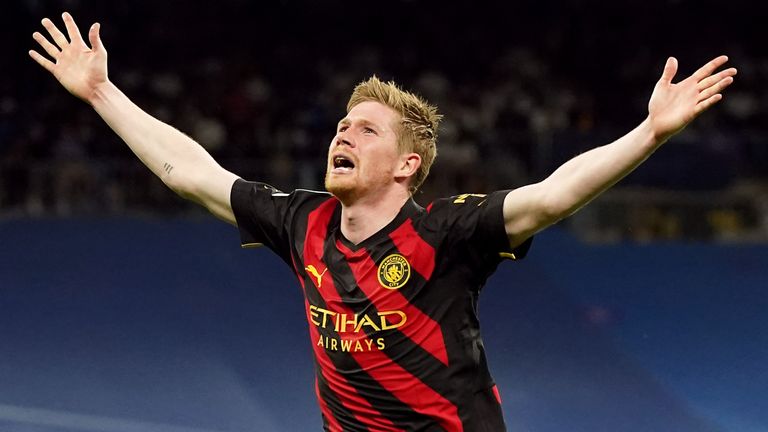 Kevin De Bruyne's equaliser saw the first leg finish 1-1 and despite City being in their best form of the season, with 11 consecutive Premier League victories, Guardiola believes his side need to play better than they did at the Bernabeu to progress.
"We can arrive in a good moment but you have to perform well. It's not just the desire or dream," he said. "All they have to do is what they have done for many years, especially this season. I have a feeling we have to do better than at the Bernabeu to reach the final.
"The team who deserves to win, hopefully they win. We have to perform well. This is my focus and I have to put it in the mind and heart of my players. They have to make an incredible performance to beat Real Madrid."
FREE TO WATCH: Highlights from the clash between Everton and Manchester City in the Premier League

Guardiola has been accused of "over-thinking" big matches in the past having lost seven times in the Champions League semi-finals during his career, but he says this time he will be keeping things simple.
"There are many things you cannot control but my only wish for my players is to be ourselves," he said.
"I cannot tell you here [my tactics]. It's nothing special, I'm not overthinking [Wednesday], don't worry guys. Nothing differently that we have done in the past."
Guardiola confirmed De Bruyne is fully fit and training as normal having not featured in their 3-0 victory over Everton on Sunday. City will only be missing Nathan Ake due to a hamstring injury.
Walker: Pep criticism hurt me
'You start to doubt yourself' – Walker admits Guardiola's criticism hurt him

Man City defender Kyle Walker admits he doubted himself after Guardiola suggested he could not play in the team's new system.
Guardiola preferred John Stones in a hybrid full-back role leaving Walker to start just four out of 11 games over a nearly two-month period beginning with City's 4-1 win at Bournemouth on February 25.
"Did it hurt? Of course it did," said Walker. "I can't lie and say it didn't hurt."
"You start to doubt yourself," added the 32-year-old, who was benched for City's Champions League quarter-final matches against Bayern Munich and the Premier League win over Liverpool at the Etiahd.
What did Pep say about Walker?
Speaking in April, Guardiola said:
"He [Walker] cannot do it. To play inside you have to make some educated movements.
"He has other characteristics. He will always have pace. He will be the fastest in this room at 60 years old.
"The reason why is tactical. It's not because we lost faith in Kyle
"He can play coming inside and he has done it many times, but like in the position against Liverpool with Rodri and John Stones, he will maybe need time to do it and we don't have time."
Walker was then restored to the line-up for City's vital 4-1 victory over Arsenal at the Etihad that swung the momentum of the title race in their favour.
He has since started all but one of City's five games and was trusted to look after Vinicius Junior in the first leg of City's Champions League semi-final at Real Madrid last Tuesday.
"Sometimes, you don't always agree with certain opinions in football but what he has done for me and for Man City in the last six years has been nothing short of tremendous," said Walker.
"He is my boss and I am one of the captains. I needed to make sure my disappointment isn't shown on the team.
"I had to react as a professional. I had to go back to basics, to what I am good at and what he bought me for and prove him wrong. That is what I have done."
Ancelotti: Quality not enough to reach final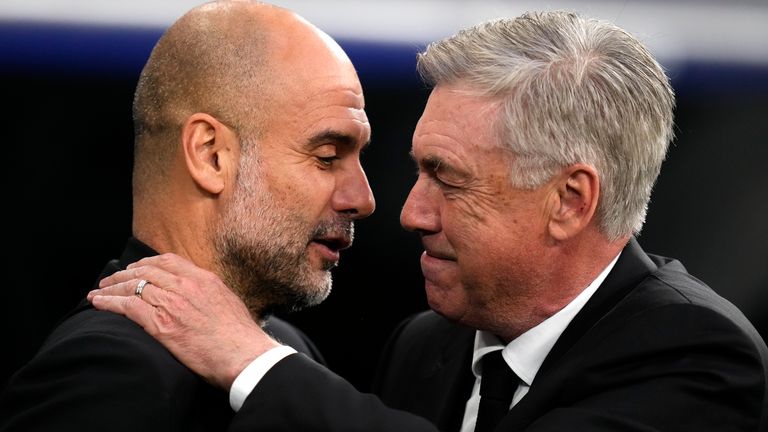 Real Madrid manager Carlo Ancelotti insists Manchester City's world-class quality alone will not be sufficient to seal progress to the Champions League final.
Asked whether City's status as one of the best teams in the world, or Real's heritage in the competition, would be more important, the Italian said: "It's difficult to say, the match is unpredictable.
"Real Madrid and Manchester City, at this moment, are the best teams in Europe. For sure it will be an exciting game, as it was in the first leg.
"Also, if you are thinking you are the best team in the world it doesn't give you 100 per cent certainty you are going to move [to the final] because, as I said, these games aren't only a down to a matter of quality.
"When you reach a semi-final, it's whether you are able to show personality, character and mentality on the pitch, not only quality."
Kyle Walker was speaking ahead of Manchester City's Champions League semi-final second leg against Real Madrid and said Vinicius Jr deserves the respect he has, but Walker feels he can deal with the best players he faces.

City may have the home advantage but, as 14-time European champions and the current holders, Real certainly have experience of delivering in such encounters.
Ancelotti, who has won the competition twice as Real boss and twice with AC Milan, said: "It's special for Real Madrid because of the history we have in the tournament.
"In the 1950s it became important for the fans and players. It's everything you work for. It's something special to try to win European trophies, especially the European Cup.
"It's been important for them throughout their history. It is a club that has a special power to stay alive."
Ancelotti has a full squad available with Eduardo Camavinga having overcome a knock and centre-back Eder Militao available after suspension.
Man City's remaining fixtures
May 17: Real Madrid (H) – Champions League
May 21: Chelsea (H) – Premier League, kick-off 4pm, live on Sky Sports
May 24: Brighton (A) – Premier League, kick-off 8pm, live on Sky Sports
May 28: Brentford (A) – Premier League, kick-off 4.30pm
June 3: Manchester United (N) – FA Cup final, kick-off 3pm