Frank Lampard says Todd Boehly deserves more respect than reports suggesting he hired him as Chelsea caretaker boss on the sole recommendation of James Corden.
Reports emerged last week that Chelsea part-owner Boehly asked TV presenter and friend Corden for advice before deciding to hand Lampard the reins at Stamford Bridge until the end of the season.
Asked ahead of Wednesday's Champions League quarter-final tie against Real Madrid about the reports by Sky Sports News reporter Gary Cotterill and whether the Spanish side are in 'A League Of Their Own' when it comes to winning the competition, Lampard said: "Wow.
"I saw the headline of James Corden and I am absolutely unaware of if it's true or not. It's obviously a great headline to put together casually from the outside.
"When I look at the success of Todd Boehly and the owners of Chelsea Football Club I think you have to respect that success and respect the idea that they'll make decisions based on more than a conversation with one person."
'Di Matteo comparisons? We want to make our own history'
Frank Lampard plays down comparisons between his current situation at Chelsea and that of Roberto Di Matteo who led the side to Champions League glory in 2012.

Former Chelsea midfielder Roberto Di Matteo led the Blues to Champions League glory for the first time in the club's history as caretaker manager in 2012, when Lampard was in the squad.
But Lampard, now in the same position, has sought to play down any comparisons with Di Matteo.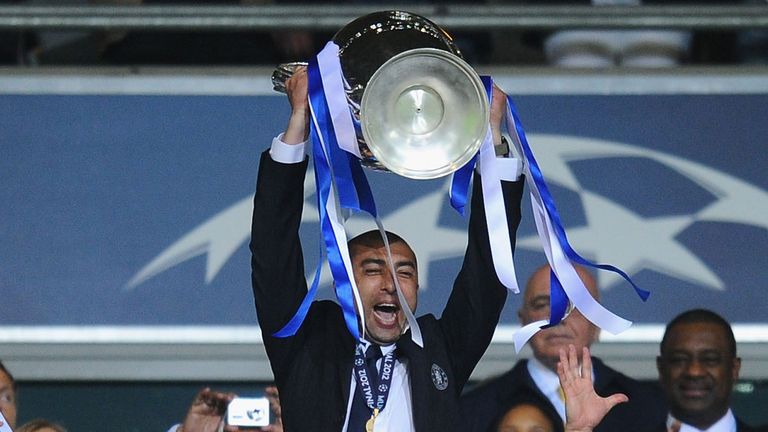 "I haven't spoken to Robbie," he said.
"I've exchanged messages with a few people. Obviously a lot of Chelsea-related people like Guus Hiddink and ex-managers and people in the game.
"There are parallels in a simple sense. We are ex players, but the year Robbie was here he was assistant, he had a big awareness of the squad and got the job earlier in the year than I did.
"He did an amazing job, I remember big parts of why he achieved what he achieved. I think my situation is different in practice. I do have an awareness of the squad but not at close-hand to all of them.
"I think I have to be careful making that parallel because we have very tough games in front of us starting tomorrow. There's a lot of work to be done but we are very committed to making our own bit of history."
Ancelotti backing Lampard to improve Chelsea
Carlo Ancelotti admits he is sad about the situation at Chelsea but ruled out a return to the club in the summer and backed his former player Frank Lampard to do a good job at the club

Real Madrid head coach Carlo Ancelotti backed Lampard to improve Chelsea's flagging fortunes ahead of the Wednesday's Champions League quarter-final clash at the Bernabeu.
Appointed on an interim basis until the end of the season, Lampard, who previously managed Chelsea from July 2019 to January 2021 before being sacked, was a surprise choice to replace Graham Potter.
Chelsea's all-time leading goal-scorer's second stint at the helm started on a losing note at Wolves at the weekend, leaving them 11th in the Premier League and without a win in their last four fixtures.
Chelsea can temporarily forget their domestic woes this week as they travel to the Spanish capital for a reunion with their former boss Ancelotti, who ruled out taking charge at Stamford Bridge this summer.
But Ancelotti, who was in the Chelsea dugout between 2009 and 2011, has backed former England midfielder Lampard to make a success of the unexpected return to his beloved west London club.
"I feel sad (looking at Chelsea's position in the table)," Ancelotti told a press conference on the eve of the first leg. "I have a fantastic memory of this club, of the people that are still working there. I'm a supporter of Chelsea, because I spent two years there.
"Will I go back? No, I hope Lampard will be able to do a fantastic job with them…Lampard has been a great player who I coached for two years.
"He knows these kind of games well and how to prepare his team. He has been here for a week, but he will do well in the time he is at Chelsea."
Ancelotti insisted Real will not be overlooking the Blues, who knocked out Borussia Dortmund to reach this stage, despite the English side's form this season.
"We have to respect the team and the club," Ancelotti added. "They have very good players and even if they are not in a good moment they have great motivation and will bring out the best. It's a squad of a very high level.
"The team is excited and motivated to return to the Champions League and experience another magical night at the Bernabeu. We have to take advantage of the fact that we play the first game at home."
Chelsea's remaining fixtures
April 12: Real Madrid (A), Champions League quarter-final, kick-off 8pm
April 15: Brighton (H) – Premier League, kick-off 3pm
April 18: Real Madrid (H), Champions League quarter-final, kick-off 8pm
April 26: Brentford (H) – Premier League, kick-off 7.45pm
May 2: Arsenal (A) – Premier League, kick-off 8pm, live on Sky Sports
May 6: Bournemouth (A) – Premier League, kick-off 3pm
May 13: Nottingham Forest (H) – Premier League, kick-off 3pm
May 20: Manchester City (A) – Premier League, kick-off 3pm
May 28: Newcastle (H) – Premier League, kick-off 4.30pm
TBA: Man Utd (A) – Premier League