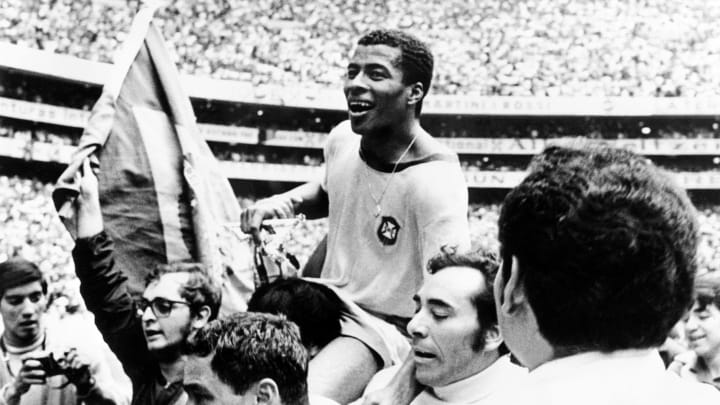 Right wingers come in all shapes and sizes. For every scheming, diminutive trickster there is a sprinter-turned-footballer who relies on speed to get past their man.
Then there's the wide playmakers…or the fat bloke in your Sunday League team who's partial to a cheeky step over – but not much else.
No matter what your favourite genre of right winger is, they're likely to be represented in this list. Well, maybe not the last one actually. This is the cream of the crop you see.
Garrincha means little bird in Portuguese and it is not the only nickname that Manuel Francisco dos Santos went by during his illustrious career.
The Brazilian icon was also called Alegria do Povo (People's Joy) and Anjo de Pernas Tortas (Bent-Legged Angel), the latter a reference to the spinal condition that meant he had one leg shorter than the other.
Despite this disability, Garrincha would cement his place as the best dribbler in footballing history during the 1950s and 1960s. He starred for Brazil as they lifted both the 1958 and 1962 World Cups, leaving a trail of humiliated defenders in his wake during both tournaments.
George Best transcended the right-wing position just as he transcended football as a whole, becoming one of the most famous men on the planet during his heyday.
Freakishly talented and ruggedly handsome, Best had conquered the world by his early 20s. As part of Manchester United's fabled Holy Trinity alongside Denis Law and Bobby Charlton, the Northern Irishman had won a host of domestic titles and a European Cup by the time he was 22.
Plenty more success came afterwards as well with Best's ludicrously precise close control and goosebump inducing runs keeping fans on the edge of their seats throughout the 1970s.
When Garrincha retired in 1966, Brazil lost a national treasure but the void left by his departure would soon be filled by a precocious youngster.
Jairzinho burst onto the scene during the 1970 World Cup, becoming the first player to score in each round of the competition. That particular Brazilian team, featuring the likes of Carlos Alberto, Rivellino and Pelé is regarded as one of the best in history, thanks in part to the astonishing ability of the side's right winger.
Jairzinho was less flashy than some of his attacking counterparts but he was no less effective. A fearsome combination of intelligence and speed made him the most effective forward of his generation.
In a storied career that spanned no less than four decades, Sir Stanley Matthews carved out an unmatched footballing legacy.
Loyal, talented and evergreen, Matthews played for just three clubs during his 33 years in the game – Stoke City, Blackpool and Toronto City.
He was the gentleman footballer and the archetypal British winger. Blessed with a box of tricks to beat any defender his crossing ability and comb-over were second to none.
Portuguese footballing culture seriously values a tricky winger and none fit the national profile more closely than Luis Figo.
Hugging the touchline as though it was pulling him in with a magnetic field, his career peaked when he won the 2000 Ballon d'Or following a superb run of form with Barcelona.
In fact, he was so good that their Clásico rivals Real Madrid made him the most expensive footballer in the world, leading Figo becoming public enemy number one in Catalonia. Coins, lighters and…a pig's head were all thrown at him on his return to the Camp Nou.
The strength of feeling at Figo's betrayal is a clear indication of his world class talent.
It really it remarkable that Arjen Robben scored so many of the exact same type of goal in his career.
You know the one. He picks the ball up on the right, does a few of those baby touches while leaning over the ball like the Hunchback of Notre Dame, before unleashing an unstoppable left-footed shot right into the stanchion.
He did it for over a decade and nobody ever found a way to stop it.
He may have been a one trick pony but it was a pretty good trick which helped him win multiple Premier League, La Liga and Bundesliga titles as well as a Champions League.
In one of the best character arcs in recent sporting history, a rough around the edges left-back who waited over a year for his first Tottenham win developed into one of the best right wingers in the world, seemingly overnight.
During his Premier League heyday, Gareth Bale almost single handedly transformed Spurs into European contenders and he continued to post staggeringly good numbers after moving to Real Madrid.
His Los Blancos career hasn't always been rosy but even the most golf adverse of Real fans will never forget when he shook the world with a stunning overhead kick against Liverpool in the 2018 Champions League final.
Blessed with the most beautiful technique in English footballing history, David Beckham embodied the old-fashioned winger that is so revered on the British Isles.
Capable of dropping any cross on a sixpence, the former Manchester United and Real Madrid man was also wicked over a set piece, securing England's qualification to the 2002 World Cup with a fine free kick against Greece.
Though he probably did not achieve all he wanted on the international stage, Beckham won a great deal a club level. He was part of United's 1999 Treble winning side and was a runner-up in the Ballon d'Or the same year.
Standing at just 5 ft 5 in, Allan Simonsen more than made up for what in lacked in stature with more feints and stepovers than any defender could handle.
The winger rose to prominence while starring for Borussia Monchengladbach in the 1970s. The German side reached their pinnacle in 1977 when they were narrowly beaten by Liverpool in the European Cup final.
Simonsen would win the Ballon d'Or the same year, earning his dream move to Barcelona 24 months later where he continued to impress. He retired as one of Denmark's most decorated footballers of all time.
With a nickname like 'Jinky', it does not take a genius to work out what sort of player Celtic legend Jimmy Johnstone was.
Dancing past defenders during the 1960s and 1970s, the Scotsman spent 13 years at Parkhead and is one of the most beloved players in the club's history.
Most notably, he was part of the Lisbon Lions who won the European Cup against all odds in 1967. Johnstone was recognised for his hell-raising performances during the Bhoys route to the final by placing third in the Ballon d'Or that year.
Let'