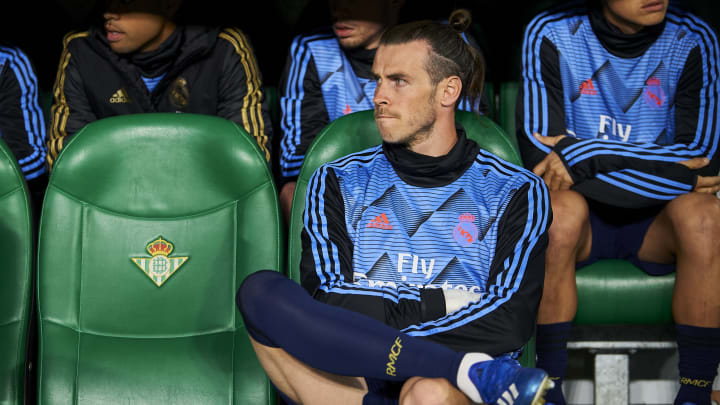 In the nicest possible terms, Gareth Bale's recent Real Madrid career has been divisive to say the least.
Ask any Los Blancos fan to compile a list of the club's most beloved players and Julian Faubert, Royston Drenthe and Joanthan Woodgate are more likely than the Welshman to make the top 10.
SHOP NOW: Get Real Madrid gear at a deep discount at Kitbag!
We think this is a bit of a travesty to be honest. A brief glance at Bale's list of honours should be enough to convince anyone that this is the case.
However, for the more hard headed among you, we've outlined a list of facts that really hammer this point home. Here is how the much maligned Bale stacks up against some of the most keenly admired Real players of all time…
Luis Figo arrival at Real Madrid as the best player in the world at the turn of the millennium was enough to instantly endear him to the fans. The fact that he joined from Clásico rivals Barcelona made it even sweeter.
During a glittering five-year spell in the capital, the Portuguese winger left a trail of humiliated full-backs in his wake wherever he played. Tricks and flicks are all well and good, but what about his output on the biggest stage?
Well, during the his time with Los Blancos Figo scored or assisted five times in domestic and continental cup finals, whereas Bale has nine goal involvements to his name to date.
More generally, the Welshman has also proved himself to be more productive. Figo averaged 0.61 goal involvements per game during his stint with Real, well below the 0.72 that Bale was racking up at for period ending at the close of the 2018/2019 season.
Another of a rare breed of players to have crossed Spain's Clásico divide, Ronaldo's body had began to break down when he arrived at Real in 2002.
Despite this, he still treated Los Blancos to some earth shatteringly brilliant displays during his time at the club and remains well liked among the supporters.
Compared the Bale though, the Brazilian's trophy haul is limited. Ronaldo lifted one La Liga title, one Supercopa de Espana and one Intercontinental Cup in four-and-a-half seasons. Bale has won 12, yes 12, honours with Real, playing a pivotal role in many of these successes.
Despite this, he is never talked about in the same revered tone as Ronaldo. Perhaps it's time to change that.
To speak ill of Real in the white half of Madrid is tantamount to blasphemy, such is the fanatical devotion the legendary striker.
Not that it's not deserved of course. Over the course 16 glorious years the Spaniard played his way into Los Blancos faithful's hearts with a string of clinical performances.
Surely then, any player who can go toe-to-toe with Raúl's 0.44 goals per game ratio over an extended period deserves a similar level of respect? Well, Bale was posting that exact figure at the end of last season and when assists are factored in, the former Tottenham man's Real career has been far more productive.
Raul does have him by the trophies but with Bale only a few honours behind his tally of 16, he could still poke his nose in front before his Madrid 'nightmare' is finally brought to an end.
Relations between Zinedine Zidane and Bale have often been strained.
The Frenchman has revealed his desire to rid himself of the winger on several occasions and, to be fair, the speedster hasn't always acted particularly professionally when left out of the starting XI.
Perhaps this simmering tension stems from jealousy on Zidane's part. Bale's has a superior Los Blancos goal involvement ratio than his gaffer and has also won more trophies.
Zidane also often failed to produce on the big occasion for Real, netting just two goals and assists during finals while at the club. Bale's record is far better (9) and many of these strikes have earned silverware for Zizou as a manager. Awkward.
Listen. Before you get upset, no one's trying to undervalue the contribution that Ferenc Puskas made to Real Madrid, football or society as a whole.
The tricky forward is one of the most important players of all time and was more than capable of producing on the big stage as his fantastic World Cup and European Cup goal record can attest.
The point we're trying to make is this:
Bale has won one more trophy for Real than Puskas and yet he's still treated as some sort of footballing pariah. Enough is enough. It's time to start treating the generational talent with the respect that he deserves.
Let'