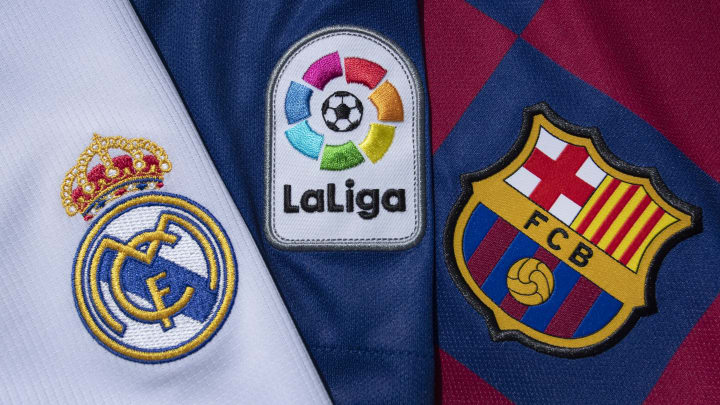 Now that the dust has settled on an exciting La Liga campaign, and a dramatic title race has reached its climax, we can all admit it: neither Real Madrid nor Barcelona were actually very good.
For the champions, they won't care one jot – and nor should they. Los Merengues have worked hard, chased down their rivals for the majority of the campaign, and snatched the trophy with a superb run of ten straight wins at the end of the season.
But very few Blancos supporters could tell you (with a straight face) that this is a vintage Madrid side, and Zinedine Zidane has been forced to deal with a lot of deadwood and under-performers over the course of a rollercoaster season. In the end, they were not quite as bad as Barça.
As for la Blaugrana, where do we start? A managerial sacking, chaos behind the scenes, horrendous away form, injuries, emergency signings, and making Lionel Messi sad. That's the biggest crime of them all.
With concerns growing over the financial stability of the club, and talk of a big injection of cash from player sales required, it could be a busy, albeit short summer in Catalonia.
So, with the new season right around the corner, what can we expect from the two clubs in the transfer market, and which players will be heading for the exit door? 90min investigates.
Gareth Bale – It might be a bit of a joke to those on British shores, but Bale's banners and antics in the stands have only confirmed one thing in Spain – he simply doesn't care. Whether that's his, the club's, or Zidane's fault will long be argued, but los Blancos will be doing everything they can to get the Welshman out of the door again this summer.
Potential transfer fee – £40m
James Rodriguez – Another player who is just not fancied by the French boss is James. He's been given plenty of chances at the Santiago Bernabeu, but the Colombian has not done enough to earn himself a place in the starting lineup. A valuable player on big wages, Rodriguez will definitely be in the shop window.
Potential transfer fee – £40m
Luka Jovic – Zidane rarely seems to change his mind on a player, and unfortunately for Jovic, his coach doesn't rate his chances too highly in La Liga. Prolific in Germany, the Serbian star would attract plenty of suitors – if the price is right.
Potential transfer fee – £45m
Marcelo – A loyal servant to Madrid, and a proper club legend, Marcelo has played an integral role in los Merengues' success over the years. But the 32-year-old finds himself behind Ferland Mendy in the pecking order, and with the talented Sergio Reguilon returning from his loan at Sevilla, it could be time to end this wonderful partnership.
Potential transfer fee – £20m
Brahim Diaz – If Brahim left Manchester City for first-team football at Madrid, then things really didn't go to plan. Either way, with the riches at Zidane's disposal, the talented Spaniard is very far down the food chain.
Potential transfer fee – £20m
Mariano Diaz – A good striker who would command a decent fee, Madrid could do worse than profiting on the forward, and bank on the returning Borja Mayoral as their second choice forward behind Karim Benzema.
Potential transfer fee – £10m
Jesus Vallejo – The Spanish centre-back is clearly not up to level, and his loan spells at Wolves and Granada have only confirmed these suspicions.
Potential transfer fee – £5m
Total transfer earnings – £180m
Samuel Umtiti – This guy is way too good to be rotting away on a bench at any level. Umtiti is clearly not enjoying himself at the moment, and a clean break may be the best option for both the Frenchman and the club. He'd bring in a lot of coin, too.
Potential transfer fee – £40m
Jean-Clair Todibo – A very talented centre-back who could grow into a superstar. But if Barça's finances are as dire as they are letting on, then Todibo turn out to be collateral damage. A risky deal.
Potential transfer fee – £20m
Arturo Vidal – Still rated as one of the most committed, experienced and talented midfielders in Europe, Vidal is attracting interest from a host of clubs – with his future seemingly Italy-bound. Cash in while you can.
Potential transfer fee – £15m
Ousmane Dembele – A desperately sad and disappointing situation for Barça and their French star. Signed for huge money with massive potential, injury, ill-discipline and bad luck have turned this dream move into a nightmare. There'll be plenty of coaches who believe they can turn Dembele's misfortune around, though.
Potential transfer fee – £50m
Rafinha – Another player whose career has been plagued by injury, Rafinha just doesn't seem up to Barcelona levels. A good bit of business for a mid-table Spanish side.
Potential transfer fee – £8m
Martin Braithwaite – The Danish striker was the ultimate panic buy in January. Signed outside of the window following injuries to Luis Suarez and Dembele, Braithwaite arrived to plug the massive gap left by the superstars. He mustered one league goal. Move on.
Potential transfer fee – £10m
Total transfer earnings – £143m
Real Madrid
Madrid will have plenty of young players returning from loans around the world, or stars who haven't quite hit the heights this season – but patience is a virtue. Eden Hazard has admitted that this year has been the most difficult of his career, but Zidane will keep the faith in the Belgian winger to come good next campaign.
Dani Ceballos has proven his quality at Arsenal this season, especially since Mikel Arteta has taken charge, and Zidane may be contemplating bringing him back to the Bernabeu, while the returning Reguilon and Mayoral could both brilliantly perform the role of supporting.
Barcelona
Barça supporters must be tearing their hair out at the misuse of Antoine Griezmann this year, after spending over €100m on the Frenchman, only to then play him out of position – or not use him at all. But he is likely to outstay current boss Quique Setien at Camp Nou, and he has all the quality to be a real star for la Blaugrana.
The Catalan faithful will also have been watching Carles Alena's performances at Real Betis this season, and now returning to Barcelona, the midfielder has all the right DNA to fight for his place at the club.
Cheque books at the ready, everyone. It's going to be a hectic summer.
Let'