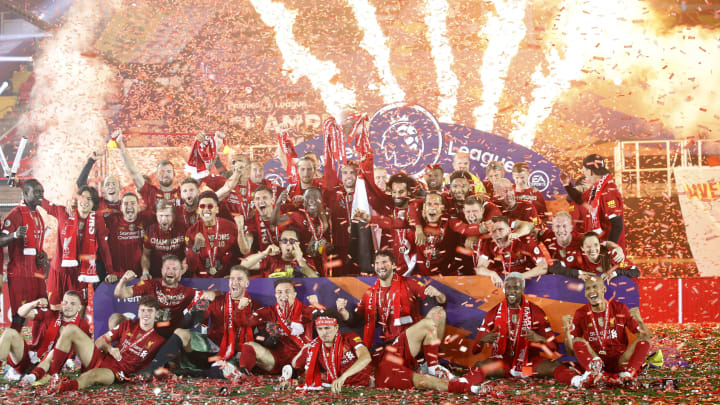 Following a season in which:
– Liverpool won their first league title in 30 years.
– Leeds United were promoted to the Premier League for the first time in 16 years.
– Real Madrid won La Liga for the first time in three years.
– Football stopped due to the COVID-19 pandemic for the first time, well, ever.
We at the DEPR headquarters rank the 25 (yes, 25) best teams in Europe for the 30th and final time this season. And to do so we thought we'd bring out the big guns; the guns that, after firing, you look at and say 'madonn'.
Yep, that's right, it's The Sopranos week.
"'Remember when' is the lowest form of conversation."
For years, all Leeds United fans could bring themselves to talk about was ever fading memories of their Don Revie-led glory days. When their team were the best in England, winning league titles and FA Cups by the truckload.
Now, finally, they have something else to talk about.
For the first time in 16 years, their club are back where they belong in England's top flight. And we at DEPR are bloody glad they are.
"In your worst dreams a duck flies off with your penis."
In Sevilla fans' worst dreams, Barcelona or Real Madrid fly off with Lucas Ocampos this summer.
They'll be hoping that their qualification for the Champions League will be enough to keep hold of the talented Argentine.
"Life is putting the prozac to the test."
The first half of the Bundesliga season was remarkable for Borussia Monchengladbach. They were locked in a three-horse race for the league title, and were absolutely blowing away every team that dared face them with their ferocious counter-attacking football.
The second half of the season was a different story. It, well…let's just say it put the prozac to the test for Gladbach fans. BUT, while their title challenge fell apart, they did manage to sneak into the Champions League.
"In my thoughts, I use the technique of positive visualisation."
Ok Leicester City fans, we know that the last day of the season didn't exactly go to plan, but let's look at the positives:
– Your club massively overachieved this season.
– Jamie Vardy won the Golden Boot.
– James Maddison is signing a new contract.
– Big Brendy Baps has your team playing great football.
– Your new kit is lovely.
Feel better?
"If I had any ounce of self-respect I would cut your d**k off."
If RB Leipzig have any ounce of self-respect then they wouldn't have tweeted about Timo Werner signing for Chelsea like a Twitter fan account called @MaestroMount8.
Embarrassing.
"Teddy Roosevelt once gave an entire speech with a bullet lodged in his chest. Some things are just a matter of duty."
Stefano Pioli once resurrected an entire football club with a bullet lodged in his chest – a wound he's miraculously survived.
So despite Milan all but appointing Ralf Rangnick as their manager for next season, Pioli – due to a certain 10 game unbeaten run and wins over Juventus and Lazio – will be in charge at San Siro for the 2020/21 campaign.
And he bloody deserves to be.
"Like Popeye says, I yam what I yam."
Love them or hate them, Atletico Madrid are still just who they are:
A boring, yet effective, football team.
"Other people's definitions of you, sometimes they're more about making themselves feel better. You gotta define yourself."
At the start of the 2019/20 season, every single member of the 90min editorial team tried to define Sheffield United as relegation fodder.
During the 2019/20 season, the Blades proved themselves to be a lot more than that. They defined themselves as a top half team who play arguably the most exciting football in the Premier League.
Nice one.
"Well, what are you gonna do?"
Well, Borussia Dortmund…what are you gonna do this summer?
Are you going to keep hold of Jadon Sancho?
Are you going to sign a defender who can actually, you know, DEFEND?
Are you going to sign more central midfield cover?
Or are you going to accept the fact that you're only the second best team in Germany? Huh?
It's time to show some ambition BVB. Do the right thing.
"I'm like King Midas in reverse here. Everything I touch turns to sh*t."
In 2017, Ousmane Dembele was one of the most exciting prospects in the world. Now, he's a bit sh*t.
In 2018, Philippe Coutinho was one of the most talented attacking players in Europe. Now, he's a bit sh*t.
In 2018, Antoine Griezmann was one of the best footballers in the world. Now, he's a bit sh*t.
All of the above is proof that everything Barcelona touches turns to sh*t.
"Even a broken clock is right twice a day."
Let's call a spade a spade, Gennaro Gattuso isn't a particularly great manager and Napoli haven't been particularly great since he's taken charge.
However, every once a while, he's able to inspire Napoli to a huge win.
The Coppa Italia final was one such win. So, you know, credit where it's due.
"More is lost by indecision than by wrong decision."
Manchester City underperformed this season for one simple reason: they didn't buy a centre back last summer.
Instead of buying a centre back they trusted John Stones, who proved once again that he is completely and utterly hopeless.
"When you're married, you'll understand the importance of fresh produce."
Another summer of buying a billion players and selling a trillion players led to yet another Eredivisie title for Ajax.
"You steer the ship the best way you know. Sometimes it's smooth. Sometimes you hit the rocks. In the meantime, you find your pleasures where you can."
Inter's 2019/20 campaign has been a pretty interesting one.
Sometimes it's been smooth, when Romelu Lukaku and Lautaro Martinez were firing on all cylinders and I Nerazzurri were challenging for the title.
Sometimes they hit the rocks, with defeats to Bologna.
Overall though, there's been plenty to enjoy for Inter fans this season, and under Antonio Conte their club are certainly moving in the right direction.
"Some people are so far behind in a race that they actually believe they're leading."
Chelsea think that they're absolutely smashing the transfer window so far with the signings of Timo Werner and Hakim Ziyech.
Yeah…they're not.
Neither of those players are defenders, and that's what the Blues are in dire need of.
"Positive vibes only."
Had COVID not put a halt to the Serie A season, SS Lazio would probably be celebrating their first Scudetto in 20 years.
And that's a pretty depressing though to Le Aquile fans so let's not dwell on it. Instead, let's dwell on the fact that your club have been absolutely outstanding this season and will probably be even better in the next.
"You boys…you boys…I'll tell ya…it's beautiful stuff."
Nine SPFL titles in a row and showing no signs of slowing down anytime soon.
You Bhoys…you Bhoys…I'll tell ya…it's beautiful stuff.
"Sometimes we're all hypocrites."
About eight months ago football fans took to Twitter and declared Manchester United 'the worst team in the world', 'an embarrassment' and 'a team full of sh*tters'.
Now, football fans take to Twitter and declare Manchester United 'the best team in the world', 'an amazing side' and 'a team full of heroes'.
Twitter is a fickle place, but at least football fans are now slightly closer to being right than they were eight months ago.
"There's an old Italian saying: you f**k up once, you lose two teeth."
There's an old saying in Porto: you f**k up once, Benfica win the Primeira Liga.
So judging by the fact that Porto won the league, it's fair to say that they didn't put a foot wrong all season.
"You know, Tony, it's a multiple choice thing with you. 'Cause I can't tell if you're old-fashioned, you're paranoid, or just a f**king asshole."
It's a multiple choice thing with Juventus.
'Cause after they bagged their ninth consecutive Scudetto I can't tell if they're a great team, a boringly effective team, or just f**king sh*t.
"This ain't negotiation time. This is Scarface, final scene, f**kin' bazookas under each arm, 'say hello to my little friend!'"
This summer isn't a summer in which PSG can afford Neymar and Kylian Mbappé to force a move away from the club.
This ain't negotiation time.
It's UEFA Champions League mini-tournament time, when Neymar and Mbappé need to step up and deliver on the grandest stage for their current club.
This is Scarface, final scene, f**kin' bazookas under each arm, 'say hello to my little friend!' time for PSG's two superstars.
"Someday soon, you're gonna have families of your own and if you're lucky, you'll remember the little moments like this, that were good."
For…well…ever, Atalanta have been starved of success. Seen as nothing more than a provincial club who could never, ever, hope to compete with the two European heavyweights (AC Milan and Inter) from down the road.
And then Gian Piero Gasperini took over, and things changed.
The little Bergamo club are now better than both their mega-rich neighbours – despite their Championship-sized budget – and pretty much every other team in Europe too.
"You're only as good as your last envelope."
There's a strong argument to be made for Liverpool being top of the end of season Definitive European Power Rankings.
They won their first league title in three decades.
They won the FIFA Club World Cup.
They're the current holders of the UEFA Champions League.
BUT they did choose to lift the Premier League trophy to Coldplay's 'Sky Full of Stars' so for that reason – and that reason alone – they're down in third.
"Be a leader, not a follower. Master P said that."
Is Zinedine Zidane the best manager in the world?
The two La Liga titles, three UEFA Champions Leagues and two Club World Cups in just four years as a head coach suggest that he is.
"Just when they thought I was out, they pulled me back."
After a fairly disastrous end to 2019, Bayern Munich made a new year's resolution to be the best damn football team in Europe and they actually stuck to it.
Since the turn of the year, Die Roten have won 23 of 24 games, lifted the Bundesliga Meisterschale and the DFB-Pokal, and scored about a million goals (most of which were scored by Robert Lewandowski).
And it's this form that has led to Bayern Munich being crowned the number one team in Europe by 90min's Definitive European Power Rankings.
Let'