Spain's history on the grandest footballing stages was one associated with false dawns up until 2008.
But between 2008 and 2012, La Roja established themselves as one of the greatest international sides we've ever laid eyes upon, securing back-to-back European Championship crowns with a mere World Cup triumph in between.
Their 'death by passing', 'tiki-taka' revolution had its foundations laid by the recently passed Luis Aragones – who ditched their traditional 'la furia espanola' – before Vicente del Bosque and his more conservative approach to maintaining possession propelled that La Roja generation into the realms of footballing greatness.
And, of course, they've had a few half-decent talents along the way. Here's the pick of the bunch since the turn of the century, as part of 90min's mini-World Cup.
---
Goalkeepers & Defenders
Iker Casillas (GK) The guy was Spain's number one for the best part of 16 years between 2000 and 2016.
David de Gea didn't quite do enough during his pomp to usurp the great Casillas.
---
Sergio Ramos (RB) The versatility he displayed early on in his career means Sergio Ramos slides in at right back, a position he played at both Euro 2008 and the 2010 World Cup before partnering Gerard Pique at the heart of defence ahead of Euro 2012.
Sure, he might define 'sh*thouse' and may have made an…interesting Amazon Prime documentary, but you've got to admire what he's achieved. Cuqui simply churns out silverware on an annual basis and is one of the most decorated footballers of all-time.
---
Gerard Pique (CB) God it's annoying how good Gerard Pique's life is.
The guy's been elite at the heart of the Barcelona defence for over a decade now, with his supreme technical attributes ensuring he thrived in both Pep Guardiola's 'Juego de Posicion' philosophy at La Blaugrana as well as the 'tiki-taka' style for La Roja – an approach Pep likes to distance himself from.
Nevertheless, Shakira's husband played a key role in their World Cup success and second European Championship victory before retiring with 102 caps to his name in 2018.
---
Carles Puyol (CB) The curly-haired stallion is one of football's 'nice guys' and was a bloody good defender as well.
The Barcelona stalwart played five of his side's six games at Euro 2008 – conceding just twice in those five – before playing every minute at the 2010 World Cup, with his powerful header sending La Roja through to the final at the expense of Germany.
---
Jordi Alba (LB) The epitome of a modern-day full-back, Jordi Alba's willingness to maraud down the left flank like an Apollo 11 proved deadly at Euro 2012, during which he supplied Xabi Alonso for his headed finish against France in the quarter-final before finishing off a swift transition for their second in the 4-0 victory over Italy in the final.
And although he was a part of La Roja outfits that endured either torrid or underwhelming tournaments in the years that followed their golden era, his continued brilliance at club level for almost a decade is enough to garner a place ahead of the reliable Joan Capdevila.
---
Midfielders
Xabi Alonso (DM)
On this day in 2003, Xabi Alonso made his senior debut for Spain ??

1??1??4?? caps
1??6?? goals

? Euro 2008
? 2010 World Cup
? Euro 2012 pic.twitter.com/Y5HtU8OBTX

— Goal (@goal) April 30, 2020
Largely overshadowed due to Sergio Busquets' emergence in 2009, Xabi Alonso is a player you appreciate further the more you re-watch him.
The elite club journeyman enjoyed stellar campaigns at the 2006 and 2010 World Cups before earning his 100th cap against France at Euro 2012 – a game in which he netted twice to send Spain through to the semi finals.
---
Xavi (CM)
The emergence of the next three midfield geniuses in this side ultimately paved way for La Roja's altered style and the departure from their typical physical, high octane approach.
In Xavi, Spain had a player who could serve as his side's 'controller' due to his capacity to circulate possession until the opposition keeled over.
La Computadora's 133 caps for Spain rank third all-time, in which he became the embodiment of La Roja's passing revolution.
---
Andres Iniesta (CM)
"It isn't the farewell I dreamed about, but football & life can be like that."

?? Spain legend Andrés Iniesta has retired from international football.

? EURO 2008, 2012
? World Cup 2010 pic.twitter.com/gAsZlirUSd

— UEFA EURO 2020 (@EURO2020) July 2, 2018
Heard he scored a pretty important goal around mid-July time 2010?
Summat like that, yeah…
---
David Silva (AM)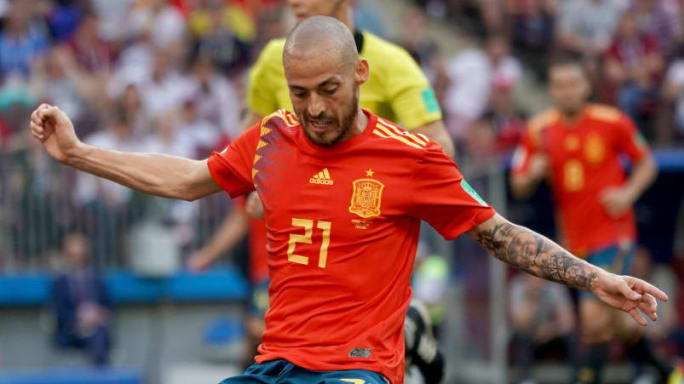 The magical trequartista served as La Roja's chief creator for the best part of a decade before calling it quits on his international career following the 2018 World Cup.
The Spaniard has mastered the simple art of the short pass but it allows him to carry out his function in any side he's apart of to the highest order. His capacity to retain possession in tight spaces, ghost in between opposition lines and thread the most incisive of passes is phenomenal.
Silva's Euro 2012 campaign was nothing short of majestic.
---
Strikers
David Villa (ST)
Spain's record scorer with 59 goals in 86 caps, David Villa's ability to drop deep from his lone front man role meant he was the ideal forward profile in La Roja's revolution.
Villa was mightily intelligent off the ball, while a ruthless goalscorer in and around the penalty area. He scored five of Spain's eight goals at the 2010 World Cup and overtook Raul in that tournament as La Roja's leading scorer in World Cups.
---
Fernando Torres (ST)
Before open goal nightmares at Old Trafford and becoming Diego Simeone's go-to man for sh*thousery, Fernando Torres was one of his generation's finest number nines.
An old-school forward who could pretty much do it all, El Niño was an absolute demon in his early years at Anfield. When opposing defences saw the long-sleeved Adidas strip, headband and 'Total 90' boots on feet, they knew it was game over.
Oh, and he also scored Spain's winner in the Euro 2008 final, craftily dinking his effort over an onrushing Jens Lehmann after capitalising on a rare moment of indecisiveness from Philipp Lahm to gift Spain a 1-0 victory.
---
Spain will face Belgium in their round of 16 matchup. Keep an eye on our social media channels to cast your vote!
Let'