It feel likes a couple of decades have passed since Liverpool pushed as hard as they could, only to fall to Atlético Madrid in the Champions League round of 16 in March. Alright, maybe not decades, but it certainly feels an awfully long time ago. Because it is. Over two months have passed.
Once football is back in a more complete form than just the Bundesliga, the UCL needs to reach a conclusion – a conclusion that will see one of the 12 teams still active lift club football's most iconic trophy.
Unsure who will win? Don't worry, so is everyone else. But here we've ranked the teams from least to most likely to get their hands on the trophy in Istanbul.
---
12 – Chelsea 12th and therefore last…and we all know why. Chelsea are not the worst side left in the Champions League this season. But it's their 3-0 home defeat to Bayern Munich in the first leg that has hacked their chances of repeating their 2012 feat into a million pieces.
London had only just dusted itself off after the visiting Serge Gnabry smashed four emphatic strikes past Tottenham during a 7-2 mauling back in October. Then, in late February, he returned to put two past Frank Lampard's side.
It's an uphill task from here. Think of the miracle of Munich in 2012. Now multiply it by five. Yeah. Unlikely.
Likelihood of Winning: 1/10
---
11 – Napoli A draw in the first leg with Barcelona was by no means the worst result for Gennaro Gattuso's Napoli. But Antoine Griezmann's all-important away goal gave Barça a foothold in the tie.
José Callejón, Fabián Ruiz and Dries Mertens show the club have a more-than-capable set of players. But will they prove they have enough to fend off competition from Europe's elite of the elite? Perhaps not.
Likelihood of Winning: 3/10
---
10 – Lyon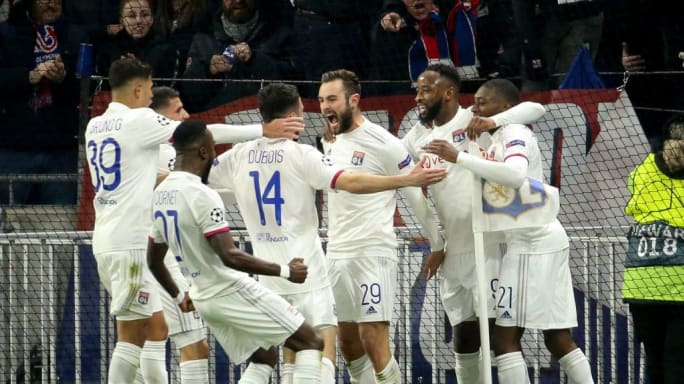 With Ligue 1 already brought to a premature close, Lyon's club president Jean-Michel Aulas said a couple of weeks ago that he expects PSG and his own side Lyon to be "massacred" in their Champions League ties if they face opponents whose league seasons have resumed.
Lyon are one up on Juventus after the first leg at Stade de Lyon. But this might be the last chance for Lyon to win major silverware before Memphis Depay makes his way to bigger and better things. Will all this pressure tell in the end? Yes, it probably will. A lack of real squad depth won't help either.
Likelihood of Winning: 3/10
---
9 – Atalanta It's been a long time since the Champions League saw a competition debutant take to the big time quite as well as Atalanta have this season.
Hammering Valencia to reach the quarter-finals might have been a little surprising, but scoring eight goals across both legs was pretty in keeping with their season. This is a team that score at a scary rate. Take their modest past for granted at your peril.
Likelihood of Winning: 4/10
---
8 – Juventus They may well be strong favourites in that second leg against Lyon, but they do find themselves 1-0 down in the tie. Cristiano Ronaldo can haul a team through a Champions League knockout round almost singlehandedly, but have you seen his free kicks since swapping La Liga for Serie A?
You should never write off the Old Lady. But this is a very Old Lady indeed.
Likelihood of Winning: 4/10
---
7 – RB Leipzig Tottenham really haven't enjoyed facing German sides this season, and they know better than anyone that RB Leipzig are well and truly through to the quarter-finals where, famously, anything can happen. Any team that can bulldoze last year's losing finalists 4-0 on aggregate are a team to keep your eyes on.
Yes, Leipzig are more than just the team Timo Werner plays for, but he is the main man, the focal point, and he would need to be on top form to catapult his side to a first ever European title.
Likelihood of Winning: 5/10
---
6 – Real Madrid And now we get to the top six sides, of which anyone could quite conceivably put together a string of strong performances and win the tournament. Real are perhaps the least likely, with an unsettled squad, hap-Hazard form and a golfing Gareth Bale.
What helps Zinedine Zidane and his star-studded side is their clear pedigree. Getting through big matches is an art, and no team has a better history in that than Real Madrid.
Likelihood of Winning: 6/10
---
5 – Atlético Madrid Diego Simeone's team would have ranked lower than their bitter rivals, but in knocking out holders Liverpool they breathed new life into park-the-bus counterattacking football. And he's unabashed about adopting that style too. If Simeone could get his hands on the Champions League trophy playing dark-arts football, he'd be in heaven.
Stranger things have happened, but conservative football can only get you so far.
Likelihood of Winning: 6/10
---
4 – Barcelona Similar to Real Madrid's form, Lionel Messi spoke out recently, admitting he feels his Barcelona side are too inconsistent to win the Champions League at the present moment. Perhaps he's being a little extreme – the Catalan club do occupy top spot in La Liga and are hot favourites to dump Napoli out and progress at their expense.
Then again, is this side anything like as strong as Pep Guardiola's Barça that hoovered up all in their wake on the way to a Wembley triumph in 2011? No. It remains to be seen if this side will sink or swim.
Likelihood of Winning: 6/10
---
3 – Manchester City From Guardiola's first team to his current one. The Catalonian manager is fully aware the Premier League title race was over a long, long time ago. The only things to work towards for now are the FA Cup and the one City, their fans and their owners all so desperately want, the Champions League.
An away win at the Bernabéu in the round of 16 first leg showed real impetus from the Citizens. Could this be their year? One thing's for sure – their irresistible rivalry with Liverpool won't resurface in Europe this season, so it might just be.
Likelihood of Winning: 7/10
---
2 – Paris Saint-Germain The togetherness with which Neymar and co. put Erling Haaland's Borussia Dortmund to bed in that second leg showed ethos at PSG the like of which we haven't seen before.
Long hated in the football world and accused of trying to buy the Champions League, PSG's individualistic and often selfish star players finally seem to be singing to the same song sheet.
Edinson Cavani. Neymar. Kylian Mbappé. Mauro Icardi. Pablo Sarabia. Thiago Silva. Keylor Navas. Ángel Di María. If Thomas Tuchel's side finally get it right this season, they'll blow everyone out the water and win the Champions League. But it's a big 'if'.
Likelihood of Winning: 7/10
---
1 – Bayern Munich So dominant this season, and particularly in UEFA's flagship club competition, Bayern have shown in the tournament so far just how rampant their attack can be when it's firing on all cylinders.
Robert Lewandowski has already notched 11 in the UCL this term, and his side have scored a phenomenal 27 goals in their first seven games in the tournament. Although they are top, the Bundesliga table is tight. In the Champions League though, Bayern have looked stronger than anyone else.
A first European title since 2013 is theirs to lose.
Likelihood of Winning: 8/10
---
Let'