COMMENT: The Cruzeiro ace could provide something Brazil have been sorely missing in recent years – but is he ready for a switch to La Liga?

Cruzeiro starlet Lucas Silva is something of an anomaly. Brazilian football isn't supposed to produce players like him anymore.
The more cerebral, foot-on-the-ball central midfielder has long been marginalised in favour of destroyers akin to the dastardly duo of Felipe Melo and Gilberto Silva, who are charged with providing a screen for the back-four and cover for onrushing full-backs.
But while Brazilian football as a whole has become increasingly reactive, relying largely on counter-attacks and set-pieces, the 21-year-old has been able to flourish in a most un-Brazilian set-up at Cruzeiro.
Coach Marcelo Oliveira demands a more holistic approach from his midfield, urging them to join the attack but also track back in numbers. He cites Tele Santana as his biggest influence, and has placed greater emphasis than many of his contemporaries on technique and passing, championing the likes of Barcelona and Bayern Munich for their dynamic, possession-based tactics.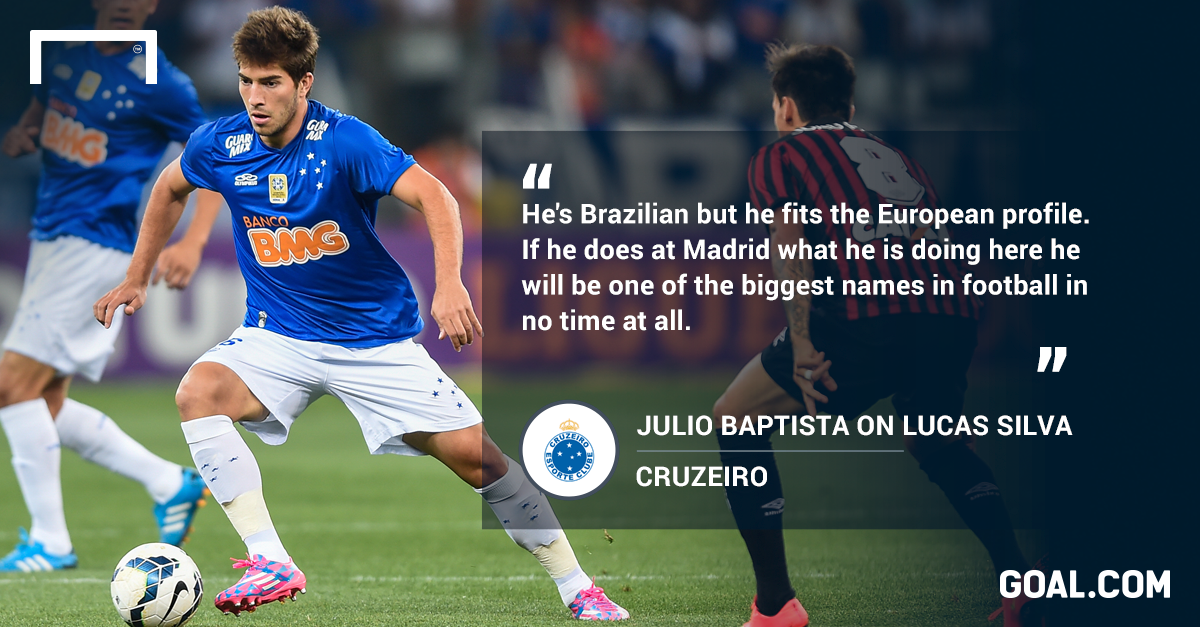 Cruzeiro have now marched to two successive Brasileiro titles and enjoyed more possession than any other side in the country this season. And few players have been as vital to their success as Real Madrid target Lucas Silva, who sets the tone from the base of the midfield.
A competent set-piece taker, he has taken responsibility for starting attacks from deep, as his propensity to follow the play and remain on the cusp of the play exhibits an understanding of the game far beyond his years.
Though perhaps his biggest strength is not his ability to play a killer ball, but to play intelligent passes quickly. According to Opta, Lucas Silva won 42 of the 57 tackles he made this season. He blocked 14 shots in 27 appearances and created 28 chances for his team-mates.
Arguably Luiz Felipe Scolari's biggest problem during the World Cup earlier this year was Brazil's complete inability to play the ball through midfield – an issue for which Felipao was unable to find a solution, so he instead just asked Thiago Silva and David Luiz to punt the ball long.
New Brazil coach Dunga is desperate to implement a more contemporary approach, with every training session since his July appointment focused on quick, short passing before explosive, collective breaks forward.
But despite having racked up six consecutive victories since returning to the hlem, Dunga too has experienced issues with the lack of a deep-lying passer able to play the first pass out from the back. That he has thus far showed little interest in having his full-backs join the attack means the potential for a more technical, passing midfielder alongside Luiz Gustavo is more workable in his pragmatic approach.
Lucas Silva could be the answer. He is set to play a major role in 2016 as Brazil go in search of their first Olympic title and, with the CBF desperate to bring all levels of the national side closer together, Dunga and Technical Coordinator Gilmar Rinaldi will no doubt discuss the young midfielder's progress at length with youth coach Alexandre Gallo.
He has been fortunate to progress in a stable environment. Oliveira has been in charge of the club for two years now, a lifetime in contemporary Brazilian football.
Following back-to-back league titles, the club has thus far been able to hold onto its star performers, with the likes of Everton Ribeiro and Ricardo Goulart resisting increasing interest from abroad. Lucas Silva emerged in 2013, making 23 appearances as his side claimed the league title and hasn't looked back since.
He appears tailor-made for European football, but is clearly still in the early stages of his development. Though adept at working quickly in pockets of space, he can look nervy when pressed and should probably be stronger in the air considering his height (1.83 metres). He will also have the tricky task of adapting to the much-reduced space afforded to him by European midfields.
Carlo Ancelotti has confirmed Madrid are keeping a close eye on him and former Santiago Bernabeu star and current Cruzeiro team-mate Julio Baptista is convinced Lucas Silva is up to the task of adapting to La Liga.
He may not be an instant sensation in Spain and would be wise to look at the plight of the likes of Asier Illarramendi before leaping at the chance to move to Madrid, but in Lucas Silva Brazilian football hopes it will find something it has been sorely missing in recent years.