With the Portuguese set to skip Wednesday's Copa del Rey final, we ask if the Ballon d'Or holder is more important to Los Blancos than his Argentine rival is to Barcelona
DEBATE
By Mark Doyle & Chris Myson

Will he or won't he? With Cristiano Ronaldo currently struggling with a thigh problem, Real Madrid boss Carlo Ancelotti has to decide whether to risk the fitness of his most important player in Wednesday's Copa del Rey final against Barcelona. It would be a huge gamble on the part of the Italian coach.
The Portugal international is already considered touch-and-go for Madrid's Champions League semi-final first-leg showdown with reigning champions Bayern Munich at the Santiago Bernabeu on April 23 because of the hamstring strain that saw him sit out the second leg of the last-eight tie against Borussia Dortmund. And, as that game at Signal Iduna Park so painfully illustrated, Madrid are just not the same side without the talismanic No.7.
Of course, the night after Los Blancos' lucky escape in Dortmund, Barcelona bowed out of the Champions League after losing 1-0 on the night, and 2-1 on aggregate, to Atletico Madrid. Unlike Ronaldo, Messi did start, but there were those who felt he may as well not have played, so negligible was his impact. Consequently, the question was once again raised: if you stop Messi, do you also by association stop Barcelona?
All of which begs another poser – are Madrid or Barcelona more reliant on their star player? Who, essentially, is more important – Ronaldo or Messi? Two of Goal's writers go head to head over the issue …
"HISTORY-MAKER RONALDO ALWAYS SCORES"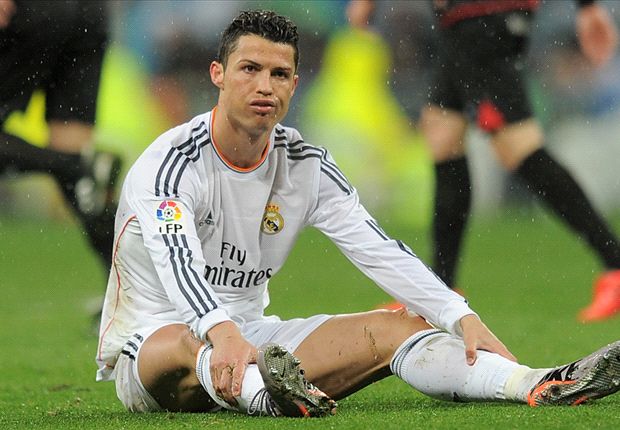 By Mark Doyle
"Given the chance, he will score." So said Diego Maradona of Cristiano Ronaldo during Euro 2012. It is a simplistic statement. Yet its veracity cannot be questioned. Cristiano Ronaldo always scores. The importance of the game is an irrelevance.
Since joining Real Madrid from Manchester United in 2009, he has struck 246 times in 240 matches. He always finds the back of the net. In every game. Often more than once. And this without the same stellar supporting cast that Lionel Messi has behind him at Camp Nou. Indeed, as Fabio Cannavaro said last year, Ronaldo fully deserved to win the Ballon d'Or because he "carries" Real Madrid.
And it's no surprise. He is, as legendary United boss Sir Alex Ferguson says, "the complete footballer". There is nothing he cannot do. Particularly in Clasicos. Between January 2012 and October 2012, Ronaldo faced Barcelona on six occasions. He scored seven times. Nobody in history has ever registered in six consecutive Clasicos. Not Ferenc Puskas. Not Alfredo di Stefano. Not Hugo Sanchez. Not Lionel Messi.
Last week's near collapse at Signal Iduna Park perfectly illustrated just how reliant Real Madrid are on Ronaldo. Especially now. When the Portuguese was struggling with injury earlier this year, Jese Rodriguez was on hand to step in to Los Blancos' attacking triumvirate. However, the youngster has now been ruled out for the season.
Gareth Bale looks more effective in Ronaldo's preferred position on the left wing but the Welshman has yet to prove himself in a Clasico. The same goes for Karim Benzema. Even in scoring twice against Barcelona last time out, the Frenchman still managed to show that in the big games he misses the big chances. Ronaldo does not.
Is he arrogant? Yes, undeniably. It's one of the reasons why he was booed at the Santiago Bernabeu recently. But they'll miss him when he's gone. They'll miss him on Wednesday night. Why? Because he always scores.
Follow Mark Doyle on

"BARCA ARE UNRECOGNISABLE WITHOUT MESSI"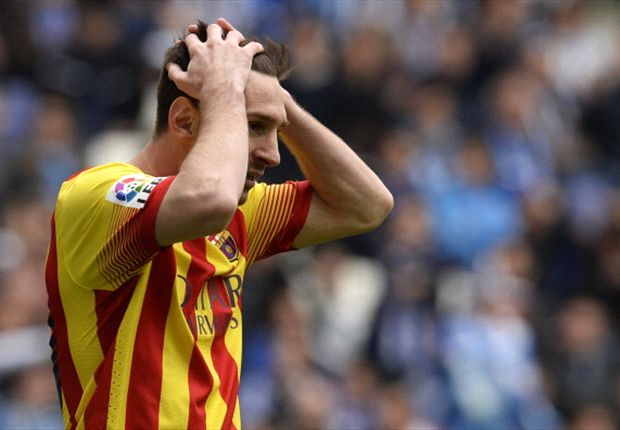 By Chris Myson
When Lionel Messi is either absent from the squad or playing while short of full fitness, his Barcelona team are almost completely unrecognisable.
The Argentine superstar, scorer of an astonishing 309 goals over the last six seasons, has led his side to four Ligas and two Champions League trophies since his first Ballon d'Or triumph in 2009.
He has consistently delivered in the biggest games, scoring decisive goals in both Champions League final victories against Manchester United. In the Clasico duels, he has been a constant thorn in Madrid's side, scoring 15 times in 21 games since 2009 compared to Ronaldo's 13 in the same number of matches. The Camp Nou star has nine assists compared to the Madrid talisman's total of just one.
At Madrid, an injured Ronaldo will always be missed but los Blancos now have €100 million man Gareth Bale – enjoying a successful first season – to step in and fill at least some of the void. Karim Benzema, too, is enjoying his most effective campaign since arriving at the Bernabeu.
Barca do not boast the same star power when Messi is not firing, despite the big-money move for Neymar last summer. The Brazilian is yet to find his best form at Camp Nou and despite his immense talent is years from being the finished article.
The likes of Pedro and Alexis represent decent options, but usually Tata Martino is forced to deploy Cesc Fabregas or Andres Iniesta out of position whenever their star man is absent. The team is built around Messi and often they seem lost without him, playing with neither balance nor purpose.
Last season's Champions League semi-final against Bayern Munich perfectly illustrated this. An unfit Messi was completely ineffective in the first leg and unable to participate at all for the second. A toothless Barca were trounced 7-0 on aggregate.
The Catalans will be thrilled that it is Ronaldo – and not Messi – who is doubtful for the Mestalla battle on Wednesday. Madrid will still have a chance of succeeding if they line up without the Portuguese sensation, but few would be saying the same of Martino's troops if they were missing Messi.
Follow Chris Myson on