The 24-year-old has put in two poor performances against the Catalans this term but, in Ronaldo's likely absence, needs to step up when it matters most in the Copa del Rey final
COMMENT
By Ben Hayward | Spanish Football Writer
Time to step up. Gareth Bale's numbers since moving from Tottenham to Real Madrid in a record deal last summer may make pleasant reading for fans of Los Blancos, but his performances in the two Clasico clashes this season tell another tale. He hasn't been good enough.
Bale has hit 19 goals from his first 38 games since his summer switch and added 15 assists so far, but disappointing displays from the Welsh winger in the league defeats home and away to Barcelona mean the 24-year-old now has a point to prove in Wednesday night's Copa del Rey final against the Catalan club.
The likely absence of Cristiano Ronaldo at Mestalla means more pressure will also be placed on Bale to deliver in his biggest game yet since signing in a €100 million move in August. With the Portuguese set to miss out because of a knee injury, the role of Bale now assumes added importance.
"Cristiano will always be missed," coach Carlo Ancelotti said. "But it's not as if the players are saying 'Oh my God! What will we do without him?' They're confident and they've shown they can win without him. It's a great opportunity for them to take the spotlight in a final."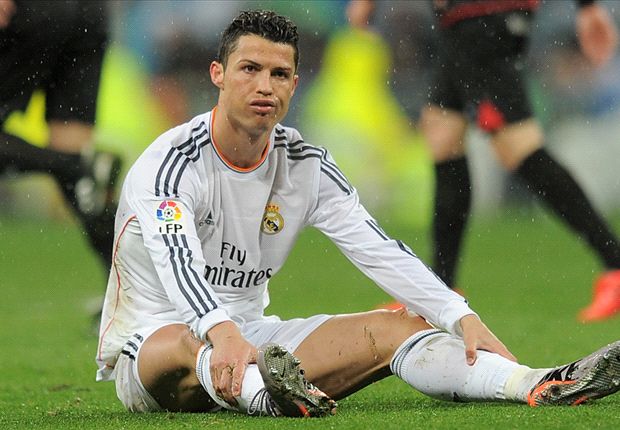 Injured | Ronaldo looks likely to miss out with a knee problem on Wednesday
As he spoke those words, the Italian will have been thinking first and foremost about Bale. After losing twice to Barca this season, Ancelotti's side will look to make it third time lucky against the Catalan club on Wednesday – and the Welshman is key to their hopes of success.
Bale looked lost in the season's first Clasico clash, a 2-1 defeat at Camp Nou in October. Lacking full fitness after missing pre-season as his protracted transfer saga stalled several times and having suffered a couple of niggling injuries in the opening weeks of the campaign, the 24-year-old's dreadful display in the Catalan capital caused concern among many madridistas.
Yet Ancelotti was also to blame. The Italian picked Bale as a central striker and, unsurprisingly, the 24-year-old struggled as he cut an isolated figure in his hour on the pitch. "He needs to look for combinations with the others," his coach said afterwards. "But he played on the right and in the centre; first he pressured [Sergio] Busquets and then he looked for space out wide. His hour wasn't bad."
It was, but to Ancelotti's credit, Bale has barely been seen since in that role and the Welshman has looked much more comfortable in his more natural position out wide, mostly on the right but also on the left recently in Ronaldo's absence.
Nevertheless, the former Tottenham man misfired again in his second match against Barcelona last month. Starting out on the right, the Welshman linked up well with his team-mates as Madrid dominated early on, but was powerless to prevent his side from slipping to a 4-3 defeat and was on target with only one of his 13 efforts. In what was another huge game for Madrid, he had failed to perform once more.
Five goals in his last five games have seen Bale back on form for Madrid since the loss against Barca and susequent defeat at Sevilla four days later. But with Ronaldo likely to miss out on Wednesday, Real really need their star signing to step up and deliver when it matters most. Their hopes of cup success may just depend on it.
Follow Ben Hayward on