After the decision to dispense with Jose Mourinho was announced on Monday, the Spanish side have set their sights on the PSG coach, and he looks like the ideal man for the job
COMMENT
By Ben Hayward | Spanish Football Writer
When romantic relationships reach their end, it is common for both men and women to seek in their next attachment the qualities lacking in their previous partner. And something similar is occurring with Real Madrid; with Jose Mourinho's separation now a reality, the Spanish side have set their sights on a different type of coach: Carlo Ancelotti.
Madrid announced on Monday that Mourinho will depart at the end of the season, after three turbulent terms in charge at the Santiago Bernabeu. Meanwhile, in Paris, Ancelotti was locked in negotiations to seal a move from Paris Saint-Germain. And even though the French club are playing hard-ball with Real, the Italian's desire to join Madrid means a move will almost certainly be pushed through over the next few days.
Real president Florentino Perez has long admired Ancelotti and had hoped to sign the Italian when he returned for a second mandate in 2009. That summer, however, Carlo chose Chelsea after ending his seven and a half year association with AC Milan. Four years on, Florentino is close to getting his man – and he looks like the ideal candidate to replace Mourinho.
ANCELOTTI'S TROPHY HAUL AS COACH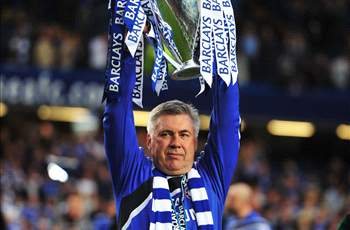 Juventus (1999-2001)
No major trophies
AC Milan (2001-2009)
Serie A (2003-04)
Coppa Italia (2002-03)
Champions League (2002-03, 2006-07)
Supercoppa Italiana (2004)
Fifa Club World Cup (2007)
Chelsea (2009-2011)
Community Shield (2009)
Premier League (2009-10)
FA Cup (2009-10)
Paris Saint-Germain (2011-2013)
Ligue 1 (2012-13)
The first big advantage for the PSG boss over the man he is set to replace is that, unlike the Portuguese, Ancelotti played professional football at the very highest level. In the aftermath of a painful Clasico defeat to Barcelona in January of last year, Madrid defender Sergio Ramos responded to harsh criticism from Mourinho for switching set-piece marking duties with Pepe by telling his coach: "You wouldn't understand because you never played [at this level]."
Ancelotti was a highly technical midfielder who won two European Cups in the magical Milan side of the late 1980s and early 1990s, playing alongside such greats as Franco Baresi, Paolo Maldini, Ruud Gullit and Marco van Basten. During his playing days, he also picked up a vast array of tactical knowledge under some of the world's best coaches, including Arrigo Sacchi and Fabio Capello at Milan, Nils Liedholm and Sven-Goran Eriksson at Roma, and World Cup winner Enzo Bearzot with Italy.
Back then, of course, Serie A was considered to be by far the strongest league in terms of tactics, an area of Mourinho's armoury which can be questioned following his three-year spell in Spain. While the Portuguese played counterattacking football with some of the world's best players, Ancelotti has utilised a number of different systems and styles throughout his coaching career and is likely to bring a much more astute tactical plan to the Santiago Bernabeu.
His favoured formation at Milan was a 4-3-2-1, adapted to become a 4-4-2 diamond at Chelsea. But there is a usually a point of reference in his sides behind the striker – a playmaker or trequartista: Zinedine Zidane at Juventus and Kaka at Milan being perhaps the two best examples. At Madrid, Mesut Ozil or Luka Modric could be primed for this role. But whoever he selects, Ancelotti's technical football will likely please fans fed on some of the world's best in the 1980s, 1990s and early 2000s, and who were uncomfortable at the defensive play favoured by Mourinho.
The Italian may have collected fewer trophies than the Portuguese over the course of his coaching career but, as Mourinho managed last year when he proclaimed himself to be 'The Only One', the former Milan boss can claim a league title in a fourth different country by winning La Liga, following championship cheer in Italy, England and France. Ancelotti, as well as being a two-time European Cup winner as a player, has won the Champions League twice as coach (as has Mourinho), leading Milan to the trophy in 2003 and 2007 (as well as the final in 2005 when Liverpool amazingly came back from three goals down to win it in Istanbul).
But unlike Mourinho, he comes without controversy. Described as a 'peacemaker' by Marca on Monday, the Italian is a strong character, yet a man who works out of the limelight and who is not one to rock the boat. The 53-year-old forged a healthy professional partnership with Silvio Berlusconi at Milan, despite receiving criticism from the then most powerful man in Italy over his tactics and so-called defensive football, and also worked well under Roman Abramovich at Chelsea until results cost him his job in his second season at Stamford Bridge.
Ancelotti has also coached some of the finest footballers in the world over the last 15 years, including Zidane (with whom he is expected to form a partnership at Madrid now), and is seen as a kind of Italian Vicente del Bosque – a coach with excellent man-management skills who can control the egos in the dressing room in a sort of father-figure role.
He is high profile, while his popularity with players and pedigree as coach mean the Italian will also be able to entice the very best players to Madrid. Essentially, he appears to tick all the boxes as the man to replace Mourinho.
Successful and tactically astute, he is also diplomatic and respectful and is extremely unlikely to cause controversies or fall out with players in the way that his predecessor did do often. And in a summer when very few top-class coaches are available, Ancelotti looks like the ideal man to smooth over the deep divisions left by Mourinho.
Indeed, even if other top trainers had been available (Jurgen Klopp, Jupp Heynckes, Joachim Low and Andre Villas-Boas have all been mentioned), the Italian would still have been Madrid's first choice as Perez looks like finally getting the coach he missed out on in 2009.
So the Mourinho marriage may be over, but Madrid believe they have already found the right man to replace him.

Follow Ben Hayward on