The Uruguayan hitman could be celebrating a return to the Champions League group stages with Napoli on Wednesday night but looks set to be this summer's hottest property
COMMENT
By Kris Voakes
A win at Bologna on Wednesday night would see Napoli return to the Champions League group stages two seasons on from a memorable assault on the tournament which won them new fans all over Europe. But perhaps more important than that is the impact it will have on this summer's most fascinating transfer tussle.
Edinson Cavani's place as one of Napoli's all-time legends is just about sealed only three years on from his arrival at the San Paolo. But his retention this summer could be a key step in the club's pursuit of even greater targets and subsequently in his establishing himself alongside Diego Maradona in the hearts of the Partenopei faithful.
Football's only certainty is that the genial Argentine will never be usurped as Naples' number one idol, but Cavani has the chance to sit alongside Maradona in Napoli's history books by leading them to Serie A glory and Champions League heroism. Yet to do that, he and the club need to join together over the next four months in a concerted effort to ward off a number of huge admirers.
The 26-year-old's fantastic scoring record in the pale blue shirt has had countless up sides. Two consecutive 33-goal seasons have been followed up with 35 more to date in 2012-13 to propel the club back among Italy's football giants, but every time a Cavani shot ripples the net the vultures swoop ever nearer. Manchester City, Paris Saint-Germain and Real Madrid have all been mentioned at length as potential destinations for the striker and rumours of a departure get louder every week.
CAVANI'S INFLUENCE AT NAPOLI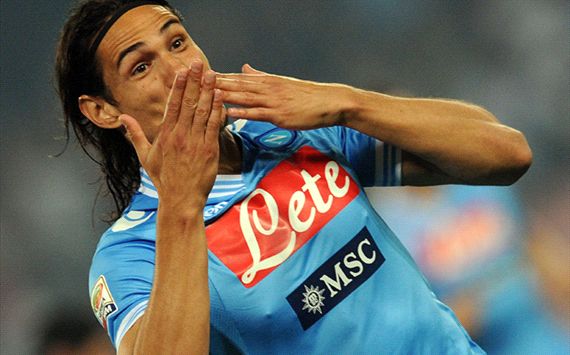 | | | | | | | |
| --- | --- | --- | --- | --- | --- | --- |
| Season | Serie A | Goals | Europe | Goals | Cups | Goals |
| 2010-11 | 3rd | 26 of 59 (44%) | (EL) Last 16 | 7 of 12 (58%) | QF | 0 of 2 (0%) |
| 2011-12 | 5th | 23 of 66 (35%) | (CL) Last 16 | 5 of 14 (36%) | Winners | 5 of 9 (56%) |
| 2012-13 | 2nd | 26 of 67 (39%) | (EL) Last 32 | 7 of 12 (58%) | Last 16 & SI | 2 of 3 (67%) |
City seem most likely to push hard for the big prize over the summer months, but they do have alternative targets should Napoli be unwilling to drop their asking price below the €63 million release clause inserted into Cavani's contract, which has four years still to run.
Radamel Falcao, Luis Suarez, Zlatan Ibrahimovic, Robert Lewandowski and Stevan Jovetic are all on the minds of the City transfer chiefs too, but none of that quintet whets the appetite quite like Cavani. The Etihad side have even earmarked striker Edin Dzeko as a potential makeweight to bring down the cost of the Uruguayan, but the Bosnian is believed to have his heart set on a return to Germany with Borussia Dortmund.
Meanwhile, Cavani has never so much as intimated that he would consider a move away from Naples, however much it is suggested that Madrid would be his preferred destination, but the club now must take seriously the possibility of him changing tack with his peak years around the corner.
His agent, Claudio Anellucci, commented after his hat-trick against Inter at the weekend: "I got excited at the San Paolo because I realised I was the agent of a player who is second only to Maradona." And, like any good agent, Anellucci should be making sure his client is aware of the options open to a player of such repute.
Napoli may not have the money to pay him the kind of huge wages that would be thrown his way by bigger clubs, but what they do have is that passionate support which remains both unrivalled and underestimated across most of the world. And, with one more league victory this season, they will have the assurance of Champions League football to match the Citys, Madrids and PSGs too. With that second place secured, there is a good chance that Cavani will stay. If they let it slip, there is every chance he will be gone.
Even then though, the financial bonanza which the Champions League brings needs to be spent well in order to prove to Cavani that Napoli are serious about challenging for major honours to add to their Coppa Italia triumph of 2012. Their current over-reliance on El Matador is immense, with his run of scoreless games through February and March helping to derail the club's Scudetto challenge. That needs to be addressed, along with the cumbersome nature of their goalkeeping and defensive resources.
Aurelio De Laurentiis knows that without a summer of considered improvement of his squad, he and coach Walter Mazzarri will not have it in them to offer Cavani what he needs as a footballer, despite him having everything he could ever want as a living legend in the city. To keep him, they must become a genuine force. If they lose him, the president's bid to take Napoli to the top of the game will be in tatters.
Once upon a time, many had Ezequiel Lavezzi down as a potential new Maradona, but his departure to PSG last summer barely registered in the grand scheme of things, such has been the rise of Cavani. The loss of the Uruguayan, however, would be catastrophic for the club, the city and the league.
Calcio needs Napoli to finish second ahead of AC Milan, and it needs Cavani to still be wearing the famous blue shirt come September 1. The Rossoneri will still attract top quality players even without Champions League football assured until August, but the Neapolitans are less likely to have such an appeal.
Cavani is the league's hottest property, and his departure from the bel paese could hasten Serie A's disappearance from the elite football horizon. Napoli, Naples and Italian football all need the man second only to Maradona to stay exactly where he is.
Follow Kris Voakes on