Santos' star forward spoke to Goal's Sebastian Garcia a year ago about the fight for his services between Spain's two top teams and his insight was revealing
INSIDE STORY
By Sebastian Garcia | Latin America Chief Editor
Saturday, March 24, 2012 was just another day at Vila Belmiro. Santos' squad underwent light training with coach Muricy Ramalho, because the following day El Peixe would beat Bragantino 2-0 in the Paulistao and two days earlier, Neymar had inspired them to a 2-0 triumph against Peru's Juan Aurich in the Copa Libertadores.
Paulo Henrique Ganso and the rest of the Santos squad abandoned the training ground, but for Neymar da Silva Santos Junior there was still work to be done. Awaiting Brazilian football's brightest young star, a series of interviews with the international press and then a photo session to present the club's centenary shirt and become the cover guy for Brazil's ESPN magazine.
I waited my turn in an improvised photo studio set up in the press room. They had promised me 20 minutes to speak to the young man with the Mohican, who three months earlier had suffered a damaging defeat to Barcelona in the final of the Club World Cup in Yokohama.
My mission was to try to discover whether Neymar would end up at Barcelona or Real Madrid. Yes, 14 months ago, Spain's two giants had already become obsessed with Santos' and Brazil's brilliant No.11.
The 20 minutes became 15 following a suggestion from the club's press officer and were then cut to 10 after much insistence from Neymar's people, but the player himself opened up to a chat which aimed to be as wide-ranging as possible and ended up not being quite profound enough to send me home entirely satisfied.
"Doesn't it make you crazy when you read the Spanish newspapers?" I asked him. And it was then that Neymar, inadvertently ended up "guessing" his future.
"It's normal. I am already used to it. I know one day I am a Real Madrid player and the next day I play for Barcelona," replied the highest-profile player from Brazil yet to feature in Europe.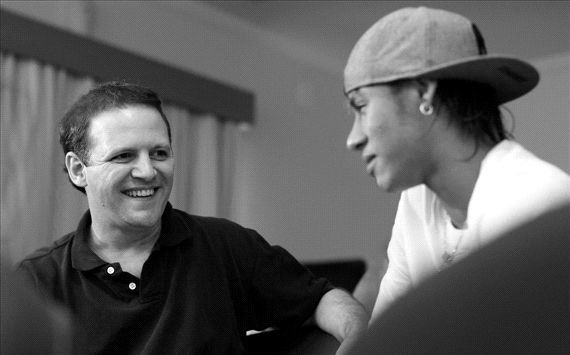 Looking into the future | Neymar with Sebastian Garcia last year
Santos, on May 24, 2013, ended up selling Neymar to both clubs. The Brazilian striker won't end up playing for both, of course, but the team which made Pele great went along with the flow of the Madrid sports press (
madridistas
, too, let's be honest) and also with the Catalans. The two have printed and sold thousands of copies confirming a story still a long way from being completed. Those that dressed him up in immaculate white, also say they saw him playing one-two's with Messi.
Santos achieved what very few clubs (and people) in the world have managed: they found agreement with both. With Real Madrid and with Barcelona. They accepted both offers. They found friends in the Spanish capital and also in Catalunya.
But the one who had to decide was the father of Davi Lucca, that young boy whose arrival almost certainly prolonged Neymar's stay in his native country.
Neymar has known for some time that millions of football fans imagine him playing in Spain's Clasico. Now it is in his hands to decide which side of the divide he will represent.
"Will you have to change your playing style when you move to a European club?", I asked him, trying to make it apparent that I was referring, more than anything, to that tendency of his to drop like a fly at the very slightest of touches.
He interpreted it in another way, but his response turned out to be the one which stayed with me above all others as he told me: "If they want me outside [Brazil], it is because they like how I play. So I won't think about changing. I have to be true to myself …"
… Even if that means that he will now have to be untrue to one of the giants in Spain.
Follow Sebastian Garcia on