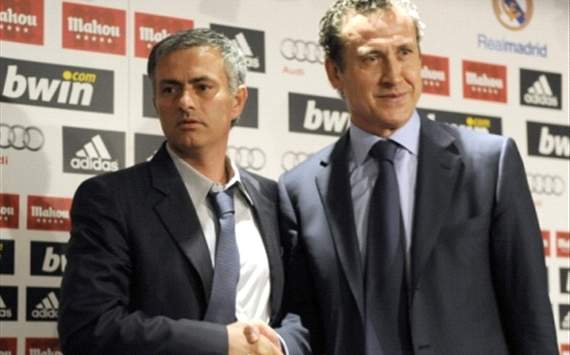 Mourinho y Valdano, juntos en la asunción del técnico en el 2010 / GettyImages
Jorge Valdano has criticised Jose Mourinho's constant complaining.

The 57-year old believes the stature of the club should stop the Portuguese coach protesting against minor incidents and says that the whinging is a sign of weakness a big club needs to avoid at all costs.
"Protesting is not something that Real Madrid should be doing," he told Cadena SER.
"No big club should be doing that. They have not done it at Barcelona for the last 25 years or so. I got the feeling that it weakened them at an institutional level and also, Real Madrid should not be giving out signals of weakness."
Valdano then went on to discuss his frustrations that figures from the past have often had to defend comments made by current staff.
"Real Madrid are the biggest club of the 20th century," he continued.
"Instead of putting so much emphasis on the result, why not defend the corporate and institutional culture of the club. I prefer the ideals of players and fans from the past. We must defend that prestige."