In the coming weeks, Goal.com will publish exclusive extracts from Richard Fitzpatrick's new book, El Clasico: Barcelona v Real Madrid, Football's Greatest Rivalry.


CLICK HERE TO ORDER A COPY OF EL CLASICO: BARCELONA V REAL MADRID, FOOTBALL'S GREATEST RIVALRY

The jibes continued in the run-up to the first-leg, semi-final of the 2011 Champions League at the Santiago Bernabeu, the third encounter between the two Clasico rivals in 11 days.
Real Madrid's coach Jose Mourinho mocked his counterpart Pep Guardiola for a post-match comment he made. Guardiola made the point that, but for "the linesman's good eyesight" in the Copa del Rey final, in which he flagged offside a Pedro 'goal', Barcelona would have won. Mourinho pounced.
"Up to now we have had two types of coaches," said Mourinho at his press conference on the eve of the match.
"A very small group of coaches who never speak about referees. After that, there is a bigger group, of whom I am one, who criticise the referees when they make big mistakes. People like me who don't control their frustration. But it is also a group who are happy to highlight the good work of the referee. And now, with the declaration of Pep the other day, we are entering a new era with a third group, which for the moment includes only him, who criticises referees when they get decisions right!"
He went on speaking for several minutes. He dropped a couple of other slurs, including one about "the scandal of Stamford Bridge" when Barcelona got a few lucky refereeing decisions in the semi-final of the competition two years earlier, but mostly he was in good spirits. Marcelo was by his side. Earlier, he had been telling the assembled journalists how he quotes aphorisms to Marcelo and his other players from "Alberto, a certain Albert Einstein".
He concluded by wishing the referee good luck for the match. "I don't want the referee to help my team. I only want the teams to be happy with his work," he said. "For Pep, it seems impossible to be happy – for him to be happy, the referee must be wrong."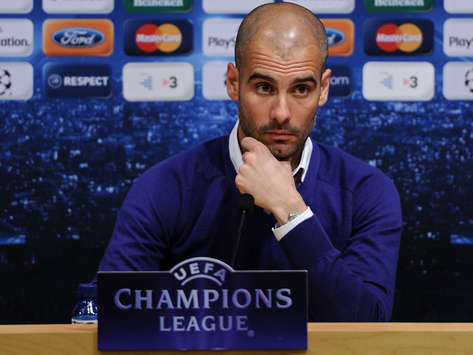 Serious business | Pep faces the press
The madness was coming out in Guardiola when he arrived shortly afterwards for his press conference. He'd always been civil in his institutional dealings with Los Blancos. He's good mates with Raul and Fernando Hierro, Madrid's greatest heroes from his time as a player. But this Clasico series was taking its toll.
He did not like it when he heard that Florentino Perez greeted his arrival in the dugout at the Camp Nou with the disparaging comment, "Guardiola is the Lopez Caro of Barca", a reference to the former reserve team coach who briefly managed the first team for Perez in the capital.
Now, after nine months of provocation, Mourinho had finally tipped him over the edge. He reacted, according to one of his confidantes, because he felt the team needed it. Their honour had been violated. They were jaded and dejected after the defeat at Mestalla in the Copa del Rey. Doubt, that gnawing worm, had entered their heads. Mourinho, of all people, was threatening to derail their season again, as he had done with Inter a year beforehand.
"Because Mr Mourinho permitted himself the luxury of calling me Pep, I will call him Jose," he said, rocking from side to side on his seat.
"Tomorrow at 8.45 we will face each other on the pitch. He has already won the battle off the pitch. He has been winning all season, and in the future. If he wants a personal Champions League, I'll let him have his own off-field Champions trophy. I hope he takes it home and enjoys it as much as the other trophies.
"But this is a game. When it comes to sport, we will play and sometimes we will win; sometimes we will lose. I can also talk about a comparative list of grievances, which would go on forever. We could remember Stamford Bridge and another 1000 things, but I do not have that many people working for me – secretaries and referees and general managers pointing things out.
"So tomorrow, we will try to play football as best as possible. In this room, he is the f**king chief, el puto amo – the f**king man. He's the most knowledgeable man in the world. I do not want to compete for a moment. Just remember we were together for four years [at Barca]. He knows me and I know him."
He raged for 45 minutes. He is a cool cat so his fury was calibrated. His composure did not extend, however, to answering foreign reporters' questions in English, as he normally does, and he took an unusual turn or two. By queasily referring to Barça as a small team that represents "a small country, from where one church steeple can be seen from another church steeple", he alluded to a song by the Catalan separatist songwriter, Lluis Llach. Born in 1948, Llach is a tenacious political activist, a kind of Pete Seeger of the Catalan music world.
Mourinho could continue reading Alberto, Guardiola added, and the Central Lechera, an expression coined by a Catalan journalist for the media acolytes of Perez. (In Spanish, mala leche, bad milk, refers to malicious propaganda).
He clarified that his reference to the good-sighted linesman in the Copa del Rey was merely to point out that results come down to small things. And when asked if his spiel was a motivational ploy, he replied: "What? You think my players will run around more because I tried to steal some limelight from Mourinho? It's a semi-final!"
His players gave him a standing ovation when he returned to the team hotel.
Follow Richard Fitzpatrick on

To win a copy of El Clasico: Barcelona v Real Madrid, Football's Greatest Rivalry, answer the following question: How many times did Guardiola lose to Mourinho as coach of Barcelona? Responses must be sent to competitions@goal.com and the winner will be announced in next week's extract. Last week's winner: Marie Fonseca