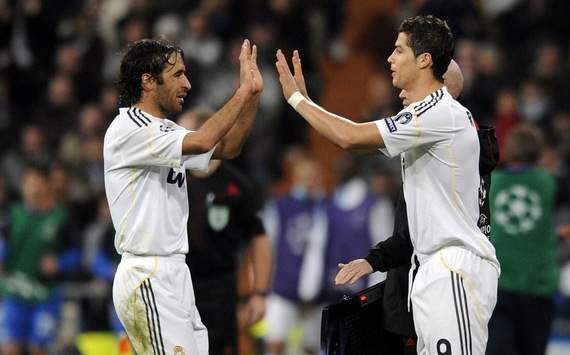 Raul and Cristiano Ronaldo, 2009-10
Real Madrid icon Raul has stressed that winning is the most important thing at the Santiago Bernabeu side, but added that the club have a number of other key values too.

Controversy arose earlier this week following Madrid's 2-1 La Liga win over Levante as Pepe supposedly provoked his opponents after the final whistle, but Raul has insisted that los Blancos teach their players to give good account of the club.
"There are no friendlies at Real Madrid. It's always about winning, but also about presenting yourself in a good light and having respect for opponents," Raul told reporters in Qatar.
"Real Madrid have certain values. It's those values that they drummed into all of us, [Alfredo] Di Stefano and the rest of his colleagues from that fantastic teams in the 50s and 60s. The values that make you admire and respect your opponents wherever you play in the Real Madrid shirt.
"It's for precisely that reason that Real Madrid are so great, for the huge expectations it has and that always surround it. If you have a pre-season in China, you have to make a good impression there because that's good for the club and for the players."
Raul left Madrid for Schalke in the summer of 2010, and now currently plays away from Europe, for Al Sadd.