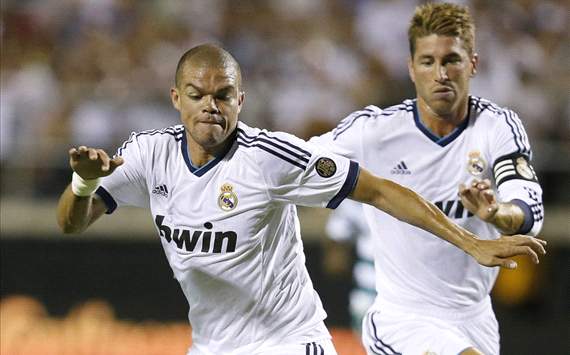 Kepler Pepe, Sergio Ramos – Real Madrid
Levante left-back Juanfran has claimed that Real Madrid defender Pepe mocked his team-mates in the wake of los Blancos' 2-1 victory on Sunday.

The the Spanish champions were made to work hard to bag all three points at Ciutat de Valencia, with youngster Alvaro Morata heading a late winner for the visitors.
"Before we went into the dressing room, I saw Pepe coming off the pitch dancing, laughing and mocking us. Everybody saw it, the security guards, the police, his own team, all of us. It's 100 per cent true," the 36-year-old told reporters.
The former Spain international went on to comment on an incident between his team-mate Sergio Ballesteros and Madrid defender Sergio Ramos.
"The police and stadium security were called and they separated the pair and made sure we went into the dressing rooms," he continued.
"Sergio Ramos' comments were sad. If he says one thing, then he should also say it about Pepe.
"He shouldn't hide anything but I find it sad that when they win, they laugh and mock their opponents. It happened in the Cup two years ago."
Levante currently sit sixth in La Liga, 14 points behind table-toppers Barcelona.