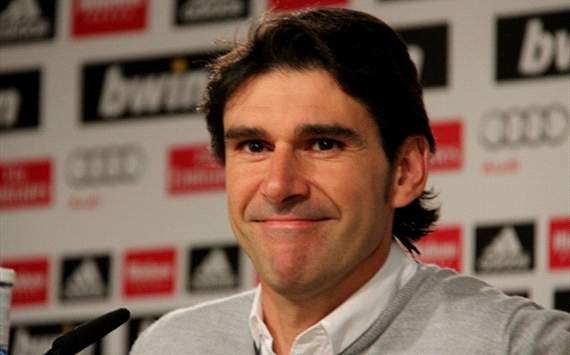 Goal.com / Shinichiro Ema
Real Madrid assistant coach Aitor Karanka has explained that Jose Mourinho is happy about not being voted best La Liga coach at the LFP awards.

The Portuguese trainer won the Spanish Primera Division with his side last season but the boss' right-hand man – who was filling in for him at the press conference ahead of the match against Athletic Bilbao – said there is no disappointment in falling short to Barcelona's Pep Guardiola.
"We spoke about it and Mourinho is very happy not to have won that award," the 39-year-old told the attending reporters.
Karanka then reflected on the 2-1 win over Levante last weekend which saw both teams battling it out on a waterlogged pitch.
He continued: "We saw other characteristics of the players, in circumstances that did not favour us. But criticism or praise from outside should not influence us. The team is very well physically.
"The progression of the team can be seen. We are continuing to progress thanks to the new signings.
"Michael Essien has played in every position and done really well. Now he should be rested for a bit."
The Liga holders currently sit third, eight points behind table-toppers Barcelona. They meet Athletic on Saturday.