COMMENT
By Peter StauntonCeltic's 125th anniversary was marked with one of the club's most startling results as the champions of Scotland beat Barcelona at Parkhead in the game which has grabbed the headlines after matchday four.
Zlatan Ibrahimovic produced one of the best individual performances of the season to confirm Paris Saint-Germain's status as contenders while two hat-tricks, and a relatively quiet week for Cristiano Ronaldo and Lionel Messi, showed that there is striking talent to be reckoned with in the Champions League.
This has been one of the great Champions League weeks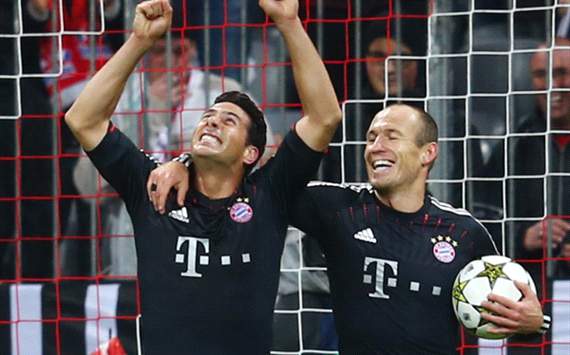 The fourth matchday of the Champions League in the 2012-13 season will go down in the annals as one of the most awe-inspiring in the history of the competition. Gone are the days of tight, tentative play and instead we are witnessing an age of vim, intrepidity and goals; goals in all shapes and sizes.
Whether the reason for the recent cascade of goals is a dwindling standard of defending or a newly-discovered swashbuckling sense of fearlessness does not matter. The Champions League is coughing up lots and lots of goals. It's spectacular to behold.
In stark contrast to the current international arena, the Champions League is light years ahead in terms of entertainment and excitement. In the opening round of fixtures of the 2010 World Cup, for example, 40 per cent of the teams failed to score even once compared with just 19% on the fourth matchday of the Champions League this season. An astonishing 58 goals were rattled in this week, spread across 16 matches. It the World Cup's opening round, that total was just 25.
"We knew Madrid's weak points and how we could score against them," the Borussia Dortmund defender Mats Hummels said following the German champions' 2-2 draw at Santiago Bernabeu. The manner in which BVB scored, through flick-ons from Robert Lewandowski into the path of forward runners, proved a refreshing rebuttal of the theory that possession means wins. Manchester City were similarly agricultural in their plundering of an equaliser against Ajax, while Celtic sealed their win over Barcelona with a massive punt down the middle of Parkhead and a well-structured, and deliberate, set piece.
There was intricate stuff on offer elsewhere; you won't see many better through passes than Zlatan Ibrahimovic's for Blaise Matuidi or Isco's for Eliseu. There were direct free-kicks, from Bastian Schweinsteiger, one of the very best from Mesut Ozil, and a stunning long-range finish from Champions League natural Oscar for Chelsea in their pulsating win against a Shakhtar Donetsk side previously unbeaten in almost a year.
Only three teams are assured of their place in the last 16 while the likes of Arsenal, AC Milan, Juventus and Manchester City are teetering with only 180 minutes worth of football to play.
If Uefa could bottle the scent of matchnight four and sell it, it would be worth a fortune.
Barcelona win must not become zenit of Celtic season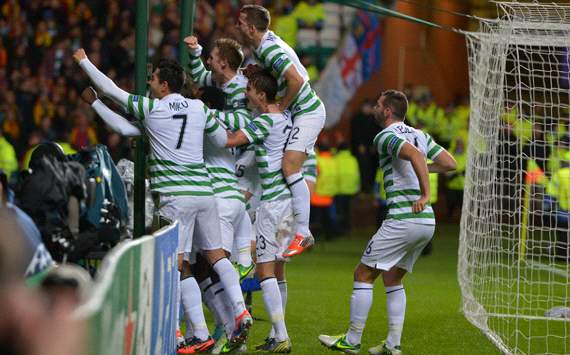 Let's not forget, Celtic are a European Cup-winning club. They are a high-calibre side in this competition; Ajax, in 2001, and Barcelona in 2004 and 2008, are the only teams to have beaten them in the Champions League proper at Parkhead in the last decade and a bit.
And as far as one-off results go, the win against Barca ranks as the best in the club's long, illustrious history. Neil Lennon's team were not lucky. They adhered to a near-perfect strategy and were, to a man, committed, hungry and ambitious.
From the outstanding goalkeeping of Fraser Forster, surely now a contender for Joe Hart's place in England's goal, to the clever, assured play of the excellent Miku, Celtic's players executed their game-plan coherently and purposefully.
But as long as the talk of heroism and David and Goliath continues, Celtic's status as usurpers and underdogs will perpetuate. To qualify for the last 16 of the Champions League on their budget from a league as poor in standard as the SPL would indeed truly be laudable. But Celtic's 2-1 win against Barcelona must initiate now a shift in perceptions.
This result showed they belong in the Champions League. Understrength, they have just beaten the best team in the world and they deserved it. But the two games which remain, against Benfica in Lisbon and Spartak Moscow in Glasgow, will define the club's season, not the Barcelona one.
Tony Watt's winner will mean pecisely nothing if no points are accrued from the last two cut-throat matches. Celtic owe it to themselves to capitalise.
If they can beat Barcelona, they can beat anyone and they should not forget that.
Zlatan gives PSG the belief that they can win it all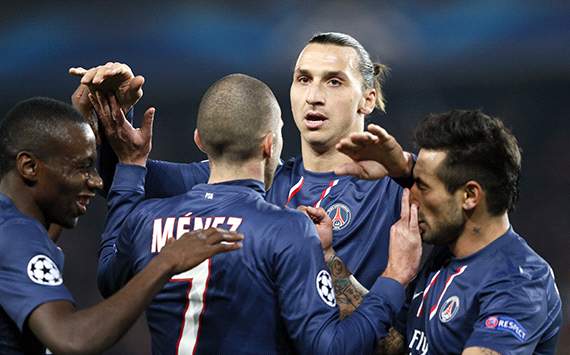 "He destroyed us," Josip Pivaric, the Dinamo Zagreb defender, sighed. "He is an immense footballer," gushed Blaise Matuidi. "He is an outstanding character," his coach Carlo Ancelotti said. The man to which they refer is the inimitable Zlatan Ibrahimovic.
Rarely has a landmark signing taken to his new surroundings with such ease, panache and authority as Zlatan has to Paris Saint-Germain. He immediately became the focal point of the team but not in a greedy, egotistical way. He has taken to his role as his side's bandiera player with gusto, his weekend red card aside, and his performance against an admittedly second-rate Dinamo Zagreb on Tuesday showed the extent by which the Swede outranks, yet inspires, his new team-mates.
"I wouldn't have come here if I didn't believe PSG could win the Champions League," Ibrahimovic told Uefa.com in September. That belief has been transmitted to his team-mates.
The manner in which he dictated not only how his team-mates played, but also how they scored their goals against Dinamo shows that this team's successes will be defined by his blueprint. Aggression, skill, vision and control, this display had absolutely everything.
PSG, with Ancelotti in charge, have a coach with the nous to win this competition. They have been, it is fair to say, uneven thus far in the Champions League. As has Zlatan throughout his career to this point. But the stars could align for the Sweden captain at Parc des Princes.
If he believes PSG can win the Champions League, you had better believe it too. Last season, I predicted Zlatan would 'never' win the competition. His adaptation to PSG and the enormous potential which still remains untapped at the club brings fresh doubt.
Clinical striking shows depth beneath Messi and Ronaldo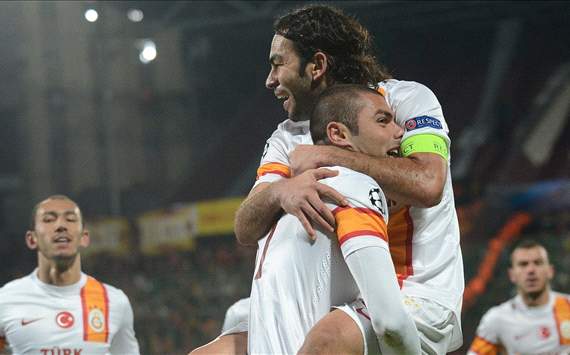 Six to 10 years ago, there existed a Golden Age of striking talent. Flick through the top scorers' list of any edition of the Champions League from 2002-03 to 2006-07 and you will see household names; some of the greatest forwards the game has ever produced. Raul, Ronaldo, Ruud van Nistelrooy, Filippo Inzaghi, David Trezeguet, Roy Makaay, Hernan Crespo, Fernando Morientes, Thierry Henry, Didier Drogba, Adriano, Andriy Shevchenko and Samuel Eto'o are still names that can be recited off by heart in the discussion of all-time Champions League goalscoring legends.
The emergence, since 2008 or thereabouts, of Lionel Messi and Cristiano Ronaldo has precipitated a steep gulp in class between what is now regarded as a great goalscorer – 70 goals a season – and the rest. But those two are on a relative cold streak. One goal in four matches between them, Messi's consolation against Celtic, has brought again into focus the exploits of the 'also-rans'.
And if you look beyond Messi and Ronaldo, there is no shortage of forward talent in the Champions League this season as matchday four proved. This week, Claudio Pizarro and Burak Yilmaz scored hat-tricks, the latter a perfect one, while Alan, Oscar, Klaas-Jan Huntelaar, Roberto Soldado, Robin van Persie and Javier Hernandez were also again on target.
If Messi and Ronaldo were not attracting all the plaudits for their superhuman levels of goalscoring, then this chasing band would be considered the equal of their predecessors. Messi and Ronaldo are over and above anyone before or since. It's not right to regard their peers with the same scrutiny and judgement they command. We are witnessing an era of unprecedented goalscoring exploits from those two but in the context of historical precedents, those in the second band are not second-rate.
The three qualified teams deserve immense credit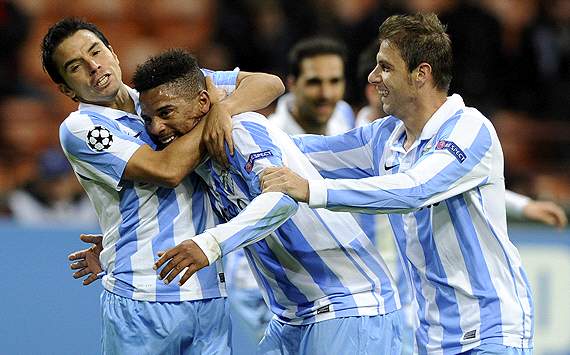 Through multiple editions of the Champions League in years gone by, the group stage has been a sprint, not a marathon. Bigger teams raced through the first three or four matches relentlessly and rested players for the fifth and sixth matchdays as the pools were completed as drab formalities.
This season has brought a continuation of the trend set last term with an uncomfortable shake-up leaving the groups on a knife-edge. The performances of the teams representing Germany's Bundesliga has been fundamental in the breaking of the English hegemony, with Manchester City and Arsenal both struggling as a result of the exertions of Borussia Dortmund and Schalke.
In all, only three teams have managed to book their places in the last 16 two matches ahead of schedule. Porto's win against PSG on matchday two was their key result and set them up for progression, secured with a draw eked out at Dynamo Kiev.
Malaga continue to defy the odds, drawing at San Siro and purveying some of the slickest football on the continent while also featuring the outstanding player of the tournament thus far in Isco.
Manchester United remain the only team on maximum points thanks to their 3-1 away win at Braga. Sir Alex Ferguson's side have clearly learned valuable lessons from last year's shambles.
To have reached the next stage two-thirds of the way through the opening phase, with the level of competition and the increased emphasis on the exploitation of defensive frailties is a feat worthy of adulation.
There is a long way to go, of course, but the fact that Porto, Malaga and United can afford to keep 180 minutes of Champions League football in their big players' legs could give added impetus in the knock-outs.