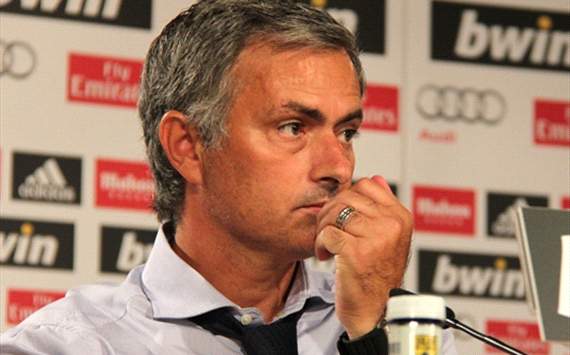 Goal.com / Shinichiro Ema
Real Madrid boss Jose Mourinho believes that his side's Spanish Supercopa clash with Barcelona remains wide open, despite the Catalans holding a 3-2 advantage from the first leg.

Goals from Xavi, Lionel Messi and Pedro were enough for Tito Vilanova's men to edge out their arch-rivals at Camp Nou last Thursday, but a late Angel Di Maria strike gave the Liga champions hope.
And the Portuguese coach is certain that his troops are able to overturn the deficit if they put in the right performance, but stressed that he was not overly concerned with the outcome on Wednesday's match after a poor start to their Liga defence.
"Everything is open tomorrow," he told reporters at press conference.
"Tomorrow we will try to defend whenever [Barcelona] have the ball and attack when we have it. We must try to score from the first minute.
"The team does not have to change anything from the way we played at Camp Nou. We had a good game.
"Winning the Supercopa and beating Barcelona is not important to me. My priority is knowing what happened against Getafe [on Sunday] – whether it's a psychological problem.
"What's important is knowing whether that was a one-off."
The capital club are yet to taste victory this season after their 2-1 defeat to Getafe, a 1-1 draw with Valencia and the reverse at Camp Nou, but Mourinho feels their performances have been impressive, the loss aside.
"The team deserved to win against Valencia, and they were better and more balanced against Barcelona, but the last match was unacceptable."
The champions have since added Luka Modric to their squad, and Mourinho is looking forward to the Croatian making an impact, and also confirmed that concussion-victim Pepe is available for selection.
"Modric was our first choice, and we know where he can play. Modric's condition is normal for someone who hasn't trained with their team for a while. A player like Modric will be in good form soon.
"Pepe trained without any problems yesterday and his wife gave birth to their daughter, so he is better than ever. We hope that he can play tomorrow."
Finally, the 49-year-old hinted that he could be tempted into another foray into the transfer market before the window's end on Friday, but was tight-lipped on the futures of Ricardo Carvalho and Kaka, who have both been heavily linked with a move away from the club.
"I'm not closing the door on signings or sales before Friday," he revealed.
"Carvalho has a contract here and we must respect that. If Kaka doesn't leave, he is a player like the others and we will try to get the best out of him."
Real Madrid and Barcelona kick off at 22:30CET on Wednesday.